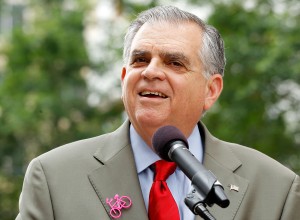 According to an article on the DC StreetsBlog,
In FHWA's new round of rule-making, DOT will set its own bicycle and pedestrian safety standards for the first time. The agency will "highlight bicycle and pedestrian safety as a priority," LaHood said.
For years, U.S. DOT has leaned heavily upon AASHTO guidelines for setting it's bicycle and pedestrian policy.  In recent years,
The National Association of City Transportation Officials publishes its own, much more cutting-edge, design guide for bicycle and pedestrian infrastructure.
It would be great if U.S. DOT took a lead and set a higher standard for bicycle and pedestrian safety.  But it does beg the question, are even those standards high enough?  If the department is going to go through the hassle of truly pulling these forms of transportation under their "wing", then why stop there?  Let's look towards the Europeans, who are decades ahead of the US when it comes to shared infrastructure, and base the new guidelines off the lessons these nations have already learned.
I also have to wonder what impact this will have.  As we previously wrote, Secretary Lahood will be stepping down in the near future.  Hopefully, he can get this ball rolling and the next Secretary of Transportation will be as friendly to alternative transportation.