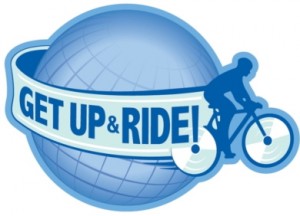 The National Bike Challenge is back for 2013!
This year, the League has set a goal of 50,000 riders logging 20 million miles between May 1st and September 30th.  We want YOU to join the RIBike team and help put little Rhody on the map.
The basics of the contest remain the same this year.  Points are awarded for trips to work, the store, with the family, any type of riding.  For every day you ride at least one mile, you earn 20 points.  With each additional mile, you earn an additional point.  The system keeps a running total of the leaders on each team, each state, and nationally.  The more days you ride, the better your chances to come out on top.  One important note, the CO2 offset numbers only include mileage logged with the "Cycling Transport" category.
They have made a few changes this year:
the contest runs one month longer – based on feedback, many participants wanted a longer competition.  The weather around here is typically nice through September, so this shouldn't be a problem for us here in RI.
unlimited team sizes – people were frustrated by the 10 member limit, so they eliminated it
higher prize goals – riders found it far too easy to march their way through each of the prize levels, so this year they will be harder (and more rewarding!) to reach each level.
There are no minimum age requirement to compete in National Bike Challenge.  However, Endomondo (the company providing the logging platform) requires riders to be 13 years of age or older to participate.  If parents want to partner with their children and enter online mileage for them, then the League is more than happy to have youngsters participate as well.
Join by going to http://nationalbikechallenge.org or join the RIBike team by going to our team page or drop us an email and we will send you an invite.