Our Maps and Rides resources will be back with even more great routes and riding! Until then, Find your town and local places to ride.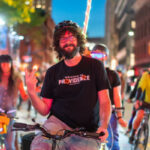 Why I Bike - John D.
I have a project that I've been working on for a while now, a map of Rhode Island generated entirely by the GPS data from bike rides that I've done. With that in my head, I'm always looking for new roads to ride, and different routes and shortcuts get prioritized. It'll keep me busy for years.
...read more