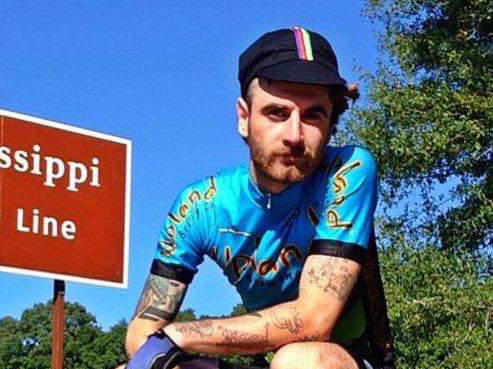 I started cycling regularly when I first moved off campus my sophomore year of college.
What motivates you to get out on your bike? Do you commute to work or school? Do errands? Go to restaurants or bars? Ride to arts events? Ride to the grocery store? Ride with friends? Bike recreationally? Do you go on bike tours? All of the above!
Cycling has been my main mode of transportation for most of the past three years. I rode my first tour in September 2018 along the Natchez Trace Trail and hope to tour the Washington Secondary Rail Trail or Erie Canal Trail next. This week I began working on my bicycle delivering food across Providence and I'm hooked on the challenge.
Do you participate in organized group rides? I went to the inaugural Providence Bike Jam and went to something similar in Buffalo. It's a great way to meet new friends and find new shortcuts or party stumps.
What does biking mean to you? Cycling has been very important to me, it's gotten me through the lowest parts of my life and if I couldn't do it than I would probably become intolerable. Experiencing new places on a bike is bliss to me, I've done it in 3 different countries now and it's my favorite way to get around. Cycling has saved me money and made me money, and I wouldn't have been able to work a lot of jobs if not for cycling.
What is the next thing you want to do with your bike? I want to go out on my bike every day and do some more deliveries since my other job is on hold for awhile. This summer I plan on riding a couple 100+ mile tours as well.