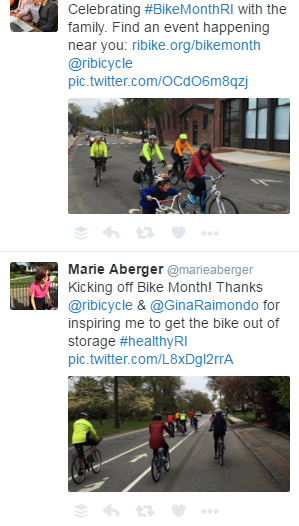 This past Sunday, May 1st, at 1:00, Governor Raimondo formally issued a proclamation that May 2016 is Bike Month in Rhode Island. At the site of the forthcoming Blackstone Bikeway Section 1A near Gano Street in Providence, she and her husband, First Gentleman Andy Moffit, both gave remarks on the importance of bicycling to Rhode Island's health, culture, and economy. Their whole family then joined us for a ride up to Lippitt Park.
This event was the first of more than 30 events in May organized by the Bike Coalition and partner organizations to provide exciting opportunities for Rhode Islanders to get on a bike.
Bicycling is not only fun and good exercise, but good for Rhode Island's economy. The events of Rhode Island's Bike Month are designed to have something for everyone, offering many opportunities to try bicycling and learn more about it. A strong bike culture helps attract corporate offices, whose employees seek that environment, and entrepreneurs who are also seeking that high quality of life.
More pictures here.
Learn more about Bike Month here.