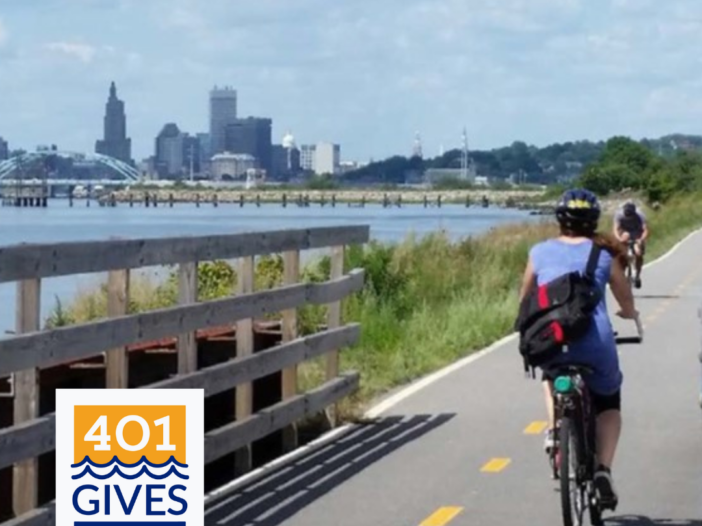 HELP MAKE CYCLING SAFER, MORE ACCESSIBLE AND CONNECTED ACROSS RHODE ISLAND! YOU CAN MAKE A DIFFERENCE BY CONTRIBUTING TO RI BIKE IN RHODE ISLAND'S SPECIAL GIVING DAY, 401 GIVES 2022.
RI Bike is hard at work keeping cycling and active transportation on the agenda at the state and local levels so all residents have the opportunity to experience the freedom, economy and joy of cycling. But we need your help. YOU can be a part of improving the environment, reducing car dependence, bettering public health and connecting workplaces, schools, shopping, the arts by making a contribution to RI Bike on April 1, 2022.
In the past year, we helped pass the Vulnerable Road Users Bill into law, distributed hundreds of bike light sets free of charge across Providence and encouraged children to practice important cycling skills at a series of Traffic Gardens. We serve on several committees and workgroups aimed at elevating cycling issues and regularly speak out on projects and issues across the Ocean State. Can we count on you to tell your friends and family members about the important work we do and ask them to join us in helping to make a difference?
As an all volunteer organization, you can be sure that every penny donated goes towards programming.
WITHOUT DONORS LIKE YOU, RHODE ISLAND BICYCLE COALITION CANNOT EXIST.
Get ready to make a difference on April 1st by visiting our donation page! We truly appreciate your support!