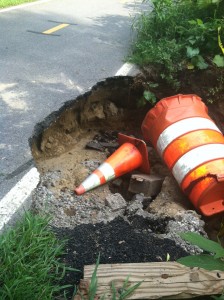 For those traveling the EBBP in Riverside.  It's located between the Lincoln Ave. and Crescent View Ave crossings, right near where Sherman Street dead ends at the bike path with Bell Ave.  This picture is from early July when I first alerted RIDOT of the hazard.  Since then, they appear to have made some attempts to shore up the area and fill it in with gravel, however when I rode by yesterday the section had eroded all the way to the dashed yellow lane marker.
There is a "solid" wall of construction cones and barrels around the current sink hole, but there is no telling how compromised the area is under the existing path.  Please be very careful riding this section, especially if you are part of a group.
We've contacted RIDOT to find out what the current status is and long term plans are for fixing this issue before it engulfs the entire bike path.  Once we hear what is happening, we will update everyone.