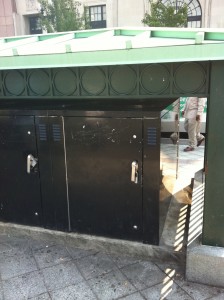 RIPTA will remove the Kennedy Plaza bike lockers this afternoon or early tomorrow. They've sat unused since at least 2001 – thousands or people have walked by them without even knowing what they are!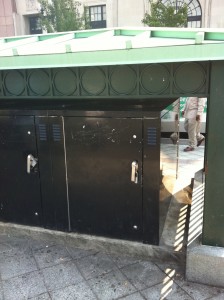 RIPTA has reached out to RIBike to find a new home for them.  We need to find a taker this afternoon.  If no one steps forward, they'll be sold for scrap.  What a shame it would be if the only bike lockers in the State of Rhode Island would be sold for their scrap value, after sitting unused for a decade…
There are 5 units.  Each is double-sided, meaning storage for 10 bikes total.
Get in touch (eric (at) greenway (dot) org) if you want them.  And please forward this post to those who might want them.  Delivery is apparently available within a reasonable distance of Kennedy Plaza.
Here's another shot: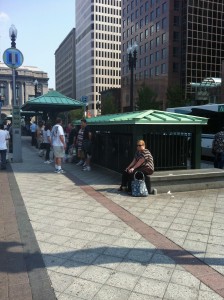 I don't know if RIPTA is including the little green roof in the deal.