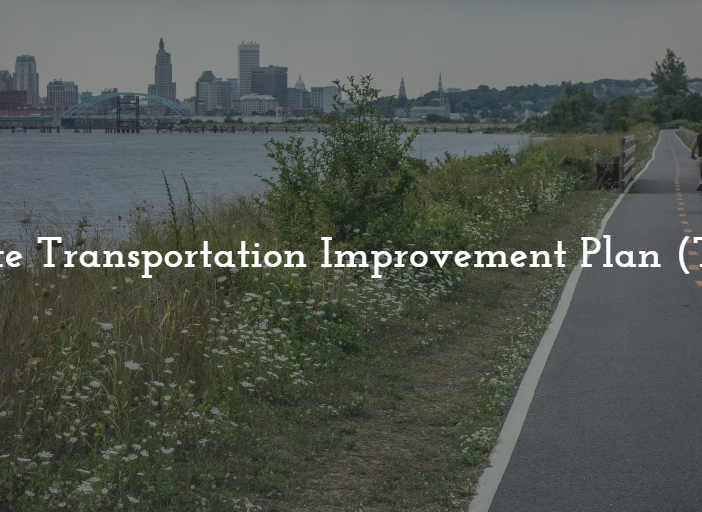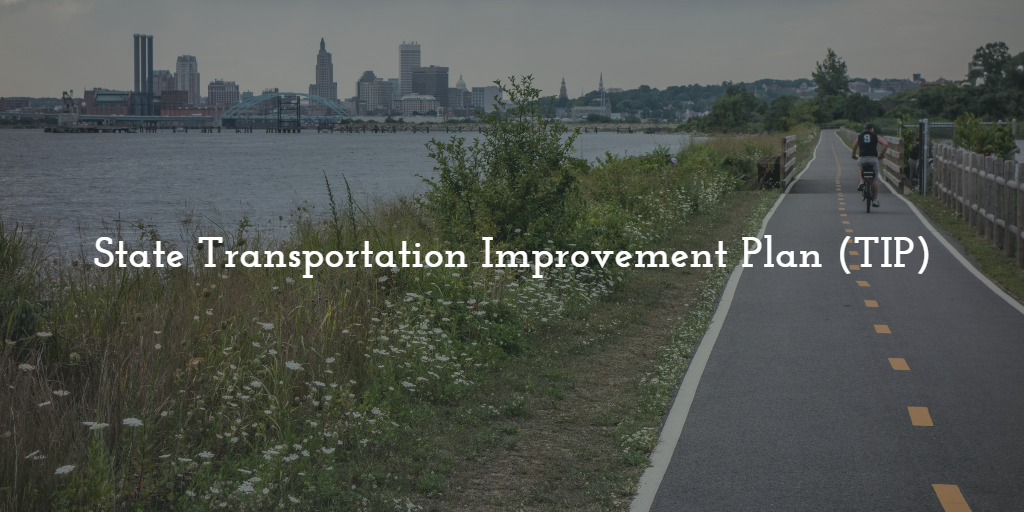 For some background on the TIP process, see our previous blog posts.
The State Transportation Improvement Plan (TIP) continues to move through its public process. The subcommittees of the Transportation Advisory Committee (TAC) have now met to prioritize the submitted projects in their areas of focus: Recreational Trails, Bicycle Facilities, Pedestrian/ADA Facilities, Safe Routes to School, Other Transportation Alternatives, and Transit. Of those subcommittees, all except Transit are working from the same "Transportation Alternatives" funding category in the TIP.
The Bicycle subcommittee of the TAC had by far the most projects to consider of any "Transportation Alternatives" subcommittee. Sitting on the subcommittee were a number of state staff (RIDOT, DEM, Statewide Planning, DOH) and several strong bike advocates: Bari Freeman of Bike Newport, Jonathan Harris of the Sierra Club, and Martina Haggerty of the City of Providence. We also want to recognize that RIPTA and DOH representatives on the subcommittee were extremely valuable members of the group, and other state staff provided invaluable knowledge about project status.
The subcommittee focused first on identifying the top priorities from the $185 million in bike projects that were submitted. The subcommittee was encouraged to focus on these top priorities for the federally-required first four years of the TIP. It was suggested that in further TAC proceedings, each subcommittee's top four years of priorities would likely stretch out to fill the ten years of the TIP. The first four years of funding for Transportation Alternatives in RIDOT's "existing funding" scenario is $21.6 million, and $37 million under the "RhodeWorks" scenario. Now that a compromise proposal has been endorsed by Speaker Mattiello, Governor Raimondo, and Senate President Paiva-Weed, it is unclear what the amount of money will actually be, but it is sure to be approximately six times lower than we need to build the submitted bike projects. We continue to ask RIDOT, the TAC, and any other decision makers we can find that the funding allocation for Transportation Alternatives needs to be raised.
[UPDATE: We hear from Statewide Planning that RIDOT is likely giving a presentation of the new Rhodeworks proposal to the State Planning Council at their meeting on Feb 11. Also, at the March 10 meeting of the State Planning Council, they are expecting RIDOT to come with recommended funding allocations per TIP category based on available funding at that time.]
In the first meeting, the bike subcommittee went through the projects that some submitter (municipalities, RIBike, and others) submitted as a high priority. They affirmed the importance of most of those projects, and added a few others to their consideration slate that were not already in that top tier. In the second meeting, they set about ranking them. Here is their final ranking, along with what sort of funding that project needs next:
"High-highs"
Blackstone Bikeway 1A – CONSTRUCTION
Blackstone Bikeway 8C – CONSTRUCTION
Providence CityWalk implementation – DESIGN
Woonasquatucket Greenway between Providence Place Mall and Eagle Square – DESIGN
SCBP Phase 4 – DESIGN
Newport North End Connector: rail-with-trail connecting Newport Visitors Center to CCRI – S&D
Newport East Main Rd shared use path (especially two challenging intersections) – S&D
Jamestown bridge access study – S&D
Trestle Trail bridges – CONSTRUCTION
"High-lows"
Blackstone Bikeway 8A – CONSTRUCTION
Blackstone Bikeway 8B-1 – CONSTRUCTION
Blackstone Bikeway 3A – DESIGN/CONSTRUCTION
Blackstone Bikeway 8B-2 – DESIGN/CONSTRUCTION
Mt Hope Bay (Portsmouth) bike improvements (connecting bridges) – S&D
East Bay Bike Path extension (Warren) – FEASIBILITY/S&D
Aquidneck Island bicycle master plan (perhaps part of statewide bike plan?)
Trestle Trail paving – DESIGN
"Mediums"
Providence bike lanes (~20 miles, undefined locations) – DESIGN
Washington Secondary extension to Olneyville Square – S&D
Ten Mile Greenway 7A parking lot – CONSTRUCTION
Aquidneck Island Bikeway Melville Connector (Portsmouth) – DESIGN
East Bay Bike Path Bridges (Barrington/Warren) – DESIGN
Ten Mile Greenway 1-4 – DESIGN
The way the process will proceed from here is that the full TAC will compile the rankings of the subcommittees to form their final fiscally-constrained project schedule recommendation to the Statewide Planning Council. They will do that by repeatedly considering the top priority from each subcommittee and choosing which should be slotted in to the combined Transportation Alternatives prioritization next. So for example, initially they will consider the #1 priority from each subcommittee. Let's say they decide the #1 bike priority should be the highest overall priority. Next they will consider the #2 bike priority along with the #1 priority of the other subcommittees. This process is designed to avoid any temptation to re-hash the work of the subcommittees in the full group. Statewide Planning staff like to refer to this process by saying "the best projects will come to the top."
The TIP process so far
One big issue with the process was that RIDOT took six months to put together their recommended plan and gave other submitters only 2 months, including the Christmas holiday. Comparatively, Statewide Planning has done a good job of facilitating this huge and complicated process. However, a lot of pieces of the process still remain very fuzzy. For example:
There may be 2015 money left over with which RIDOT can complete shovel-ready projects quickly in 2016, separate from current TIP process (but those projects will likely be selected from these TIP priorities we're currently looking at). The number $4.6 million was mentioned, available just for projects that can be completed by October.
Also, there is a Unified Planning Work Program (UPWP) where RIDOT, Statewide Planning, and RIPTA collaborate on getting priority transportation planning projects done. That process has an annual cycle and can be used to do some of the planning projects the subcommittee is looking at, rather than using precious construction money for planning. The TAC will also be responsible for approving that UPWP work plan.
It was suggested by some RIDOT staff that because they have an existing contact for some projects, those projects would not take money out of the TIP. It was unclear how this sort of contracting relationship affects the subcommittee's prioritizations.
These three very important details were not mentioned to us until the final bike subcommittee meeting. How projects get funded is certainly a complex and moving target, but it would have been good to have more clarity (as well as more time) when we were putting our priorities together.
All that said, and while the process seemed a little arbitrary at times, we're more or less satisfied with how the prioritization turned out.
One project that is on this list is not really a bike project: the Ten Mile Greenway parking lot. This would be for canoe and kayak access across the bike path to a boat ramp. It is bizarre that it was included in this subcommittee's consideration.
While there are many good projects that assuredly did not make this list, one project we're particularly disappointed about is Blackstone Bikeway segment 3B, through Central Falls. While that project needs a lot more design work than others, it is one of the most important projects from an equity standpoint, and it is a glaring omission as the only segment of the Blackstone Bikeway not included.
A few other updates from around the edges of the subcommittee's proceedings:
Mayor Elorza reportedly wrote a letter to RIDOT strongly asking them to include bike lanes on the Pleasant Valley Parkway Bridge now under construction. We'll see what emerges when that project is done.
RIPTA planner Lilly Picchione mentioned that RIPTA feels strongly that there needs to be a statewide bike plan, joining a chorus of other voices calling for that including Statewide Planning, RIDOT, and RIBike.
The bike count pilot that RIDOT and the City are working on is still scheduled to begin this spring, but is currently held up at RIDOT. This data would be incredibly valuable to bike planning in our capital city, so we are eager to see RIDOT get these in the ground, metaphorically and literally.