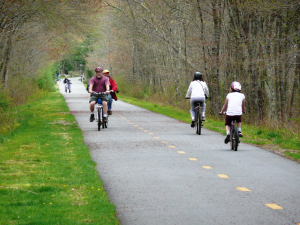 South Kingstown: The Biking Walking Working Group of the Healthy Places By Design program for South Kingstown met on September 13 to determine priority routes within the town to request sharrows to be put down on the streets. Three locations in different parts of town were identified and a request will be submitted shortly to the Town Traffic Committee. It is hoped to have these in place by early spring if not sooner. State Legislator Theresa Tanzi has been an active supporter of this effort and attended the meeting.
Members of the Working Group along with parents will have a work session after school one day soon to paint and repair existing bike racks at the Warkefield and Peacedale Schools.
There has been interest from several businesses in South County Commons in resurrecting a plan to extend the bike path through Old Mountain Field up to the Commons and a meeting and possible field inspection will be set up shortly.
Extension of the South County Bike Path (phase 4) is progressing, with meetings having been held with town officials and interested citizens to zero in on a preferred route that will pass through Canochet Farm. RIDOT has been anxious to see this resolved so that funds previously secured by then Senator Chafee to advance this section can be spent.
A sign informing bike path users that the path continues across Route 108 along Macarthur Boulevard and picks up as a path again shortly was produced by Bob Votava and posted. A full signing program is being developed with the professional assistance of Meeker and Associates of Larchmont, NY and is expected to be installed along the entire path by spring.