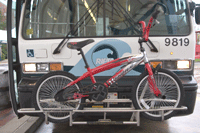 The question of expanding capacity on Ripta's bike racks came up at a recent meeting between a group from the Ripta Riders Alliance and RIPTA planners.  Currently just about all the regular full size 40 ft buses have bike racks that can carry 2 bikes (at no charge beyond the passenger fare.)  The 35 ft trolleys that are used on the RIC to East Side Market #92 line don't have a rack at all.    However, due to overcrowding on the west side (RIC to Kennedy Plaza) they may have to split the route to use the bigger full size buses there, but those couldn't run thru to the East Side due to tight turns required near East Side Market.
Racks that can carry 3 bikes are available and could be phased in.  However, there are some lines (for example #56 Chalkstone) with tight turns that might make carrying 3 bikes problematic.  We were told RIPTA operations do not permit the buses to be segregated by route so they are reluctant to order the 3-bike racks.
So there is a question about how important it is to the bike community to press RIPTA to solve the problems to allow expanding of bike carrying capacity on the buses and trolleys.  What do folks think?