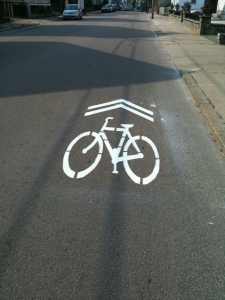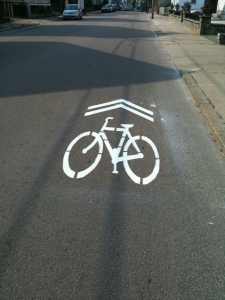 Word comes from the Bike-to-Brown mailing list that sharrows have started to appear along the on-road portion of the Blackstone Bike Way connector.  This shot was taken by John Pezza on High Street in Central Falls.  To my knowledge, this is the first use of sharrows in Rhode Island and marks a big step forward in conveying the message to motorists that bicycles have a place on the road.
I believe these markings are going to become very prolific around Providence, as cycling gathers momentum and we work with RIDOT and the cities to provide markings that educate both motorists and cyclists alike about where on the streets is safest for cyclists to ride.
As advocates, we need to make sure and do our part.  When you see sharrows, make sure they are in a sensible location.  The spot shown in this photograph is fine, if there is no parking allowed along that side of the street.  If parking is permitted, then DOT should be putting the sharrows farther into the road, outside the door zone.  These markings are just starting to be used in the State and it's likely very few of the people putting down the markings are cyclists and truly understand the dangers we cyclists face.
Let us know if you come across an area where sharrows have been put down and placement isn't appropriate, we will do our best to work with DOT and ensure better placement going forward.