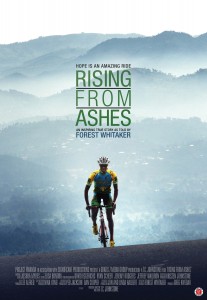 Rising From Ashes, the award-winning feature-length documentary about Team Rwanda, will premiere in Providence on Tuesday, January 21 when the cycling film screens at the Cable Car Cinema and Café on South Main St. There will be two shows, the first at 7 followed by a second show at 8:45 p.m. The event will benefit the Rhode Island Bicycle Coalition.
When purchasing tickets, be sure to select the Providence 7PM or 8:45 show.
From the Press Release:
Rising From Ashes is a joyous and uplifting independent film about the development of a national cycling team in Rwanda, a country still affected deeply by the genocide that tore the Two worlds collide when cycling legend Jacques "Jock" Boyer moves to Rwanda in 2006 to help a group of struggling survivors of the genocide to pursue their dream of creating a national cycling team. Members of the fledgling team were children left orphaned by the genocide a decade earlier. Their pasts are painful. As they set out against impossible odds, both Boyer – fighting his own past demons – and the team find new purpose as they rise from the ashes of their pasts through remarkable achievements, both big and small. The documentary tells a story of redemption, hope and second chances. It is not about the bike; however, the bicycle becomes a tool that has helped change a nation.
Rising From Ashes Trailer  from T.C. Johnstone on Vimeo.
Full Press Release:  Providence Release RFA
Media contact: Garry Harrington 603-209-5010 gharrington3165@hotmail.com