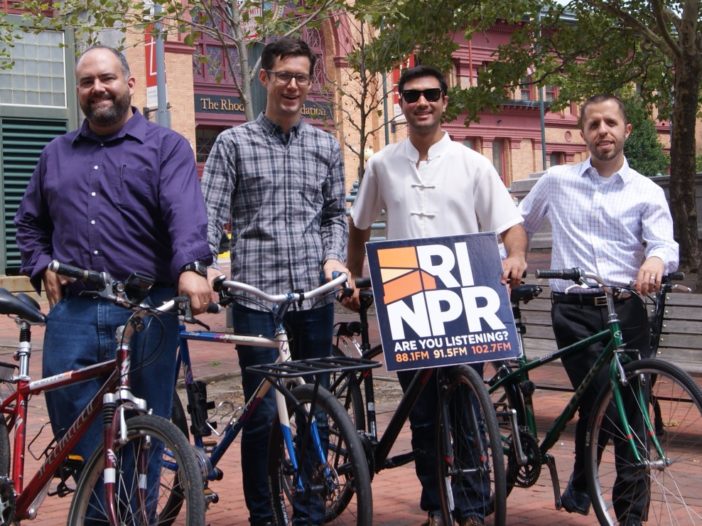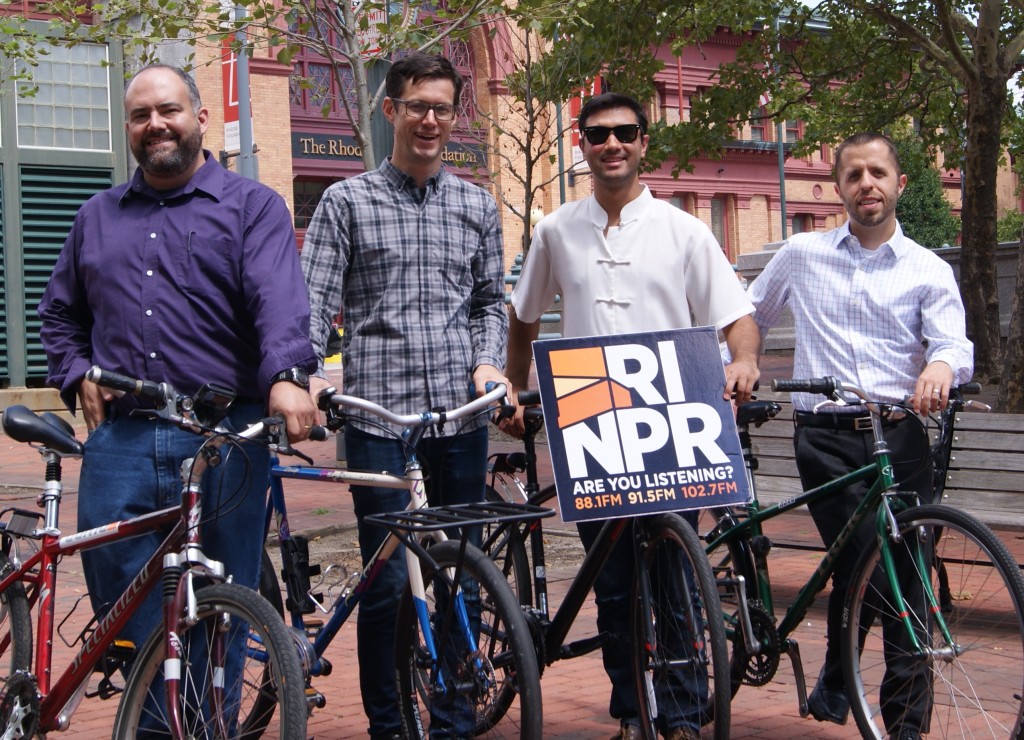 Rhode Island Public Radio named a Bronze-Level Bicycle Friendly BusinessSM by the League of American Bicyclists
Rhode Island Public Radio, the NPR Member Station for Rhode Island, is the only Bicycle Friendly Business in the Ocean State.
Today, the League of American Bicyclists recognized Rhode Island Public Radio (RIPR) with a Bronze-Level Bicycle Friendly Business (BFBSM) award, joining more than 1,000 visionary businesses from across the country.
RIPR joins a cutting-edge group of businesses, government agencies and Fortune 500 companies in 47 states and Washington, D.C., that are transforming the American workplace. Rhode Island Public Radio is currently the only business in Rhode Island with a Bicycle Friendly Business designation and it is the first non-cycling business in the state to receive the designation.
"The business community's investment in bicycling is playing a central role in making the country a safer, happier, and more sustainable place to live and work," said Amelia Neptune, League Bicycle Friendly Business Program Manager. "We applaud this new round of businesses, including Rhode Island Public Radio, for leading the charge in creating a bicycle-friendly America for everyone."
"I'm proud that Rhode Island Public Radio has been recognized for our bicycle friendly efforts. Bike-friendly policies are a great way to help create a better work environment leading to healthier and happier employees," said RIPR Interim General Manager Susan Greenhalgh. "By paying for a bike commuter benefit rather than renting a parking space for an employee's car, we are able to save thousands of dollars a year in parking expenses. RIPR is funded by listener donations and we strive to use those donations in the most efficient way possible. Simply put: when our employees bike to work, the employees are happier and RIPR saves money." Rhode Island Public Radio encourages bicycling as an easy option for transportation and provides amenities such as an indoor bike rack and tools for employees and guests to use to make minor repairs. RIPR also offers employees a bicycle commuter benefit, helping to defray part of the cost of commuting by bike.
"Rhode Island Public Radio has long supported its employees in making the choice to bicycle to work," says Alex Krogh-Grabbe, Program Director of the Rhode Island Bicycle Coalition. "We look forward to RIPR's continued participation in public debate and inquiry through events such as the Forum on Bicycling in Rhode Island (a policy discussion event and broadcast.) We are glad to see that RIPR is publicly recognized and continues to lead Rhode Island by earning this designation. RIBike can provide assistance to other organizations interested in being recognized as Bicycle Friendly Businesses, and has more resources on our website to help businesses achieve that recognition."
Moving forward, Rhode Island Public Radio will have access to a variety of free tools and technical assistance from the League to become even more bicycle-friendly. When our employees bike, great things happen: RIPR saves money on parking expenses; employees save money on car expenses; we are able to reduce traffic, pollution, and our carbon foot-print; and most importantly – employees get to incorporate daily exercise into their commute leading to healthier and happier lives.
To apply or learn more about the BFB program, visit the League online at www.bikeleague.org/business
To learn more about the Rhode Island Bicycle Coalition, visit ribike.org
About Rhode Island Public Radio
Rhode Island Public Radio is the only NPR member station based in Rhode Island and devoted to covering Rhode Island news. Our local newsroom has reporters specializing in health care, education, the environment and Rhode Island politics. Rhode Island Public Radio's mission is to provide Rhode Islanders with quality journalism and compelling storytelling that informs, educates and inspires community. We are available on 88.1 FM in Greater Providence, 102.7 FM in Southern Rhode Island and 91.5 FM in Coventry and central Rhode Island. Our news stories are available on our website, RIPR.org. Listeners can stream our programming on our website and on our iPhone app.