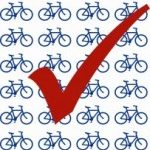 Gina Raimondo (D)


Recreational biking has long been one of my family's favorite past-times (so much so that it was featured in one of my campaign ads!). My children love riding around our neighborhood, and on our state's beautiful paths and bikeways – the East Bay Bike Path in particular. And as Treasurer, I was proud to have worked with the General Assembly to create a Municipal Road and Bridge Revolving Fund, so that our cities and towns could invest in road repairs to ensure that our streets are safe for cyclists of all kinds – whether it's those who commute by bike to work every day, or children like mine riding with their families.
Encouraging bicycling and making it safer and more accessible will result in real benefits for our state. An increase in bicycle ridership will improve public health, reducing healthcare costs throughout our state. Fewer cars on our roads means less congestion, less wear-and-tear on our infrastructure, and lower maintenance costs. It will help us combat climate change by reducing our carbon emissions. And in addition to all of these benefits, a more bikeable Rhode Island can help us create jobs.
As governor, I will be focused on putting Rhode Island back to work; but that means making Rhode Island a place where talent wants to put down roots. We are increasingly seeing that young, entrepreneurial people want to start their businesses in places that have robust public transit and high-quality, safe bicycling infrastructure. Improving our bike infrastructure is an excellent way to get more graduates from our outstanding colleges and universities to stay here in Rhode Island after they graduate. More bikeable communities, neighborhoods, and municipalities will result a higher quality of living, and help us keep talent here in our state.
When I announced my vision for public transportation in Rhode Island, I called for investments in transit-oriented development and improvements in intermodal transportation. By encouraging the development of municipal bike plans that are integrated into our state's existing bike path network, collaborating with RIPTA, and encouraging bicycling as an alternative to driving, we can not only make our state healthier and more accessible, but we can encourage economic growth throughout the state.
We must simultaneously ensure that our roads remain safe places for cyclists, by better training motorists, continually maintaining our roads (from curb to curb), and seeking out opportunities to create protected lanes.
And I fully support the promotion of bicycle-oriented tourism; in fact, I announced my tourism plan at one end of the East Bay Bike Path in Bristol, and cited the path as one of the many assets that makes our state such a wonderful place to visit. If we focus on developing a coordinated plan to tie together our network of bike paths, and make it easier to get anywhere in our state by bike, we can bring in thousands of new visitors, make it easier for them to stay longer, and create new jobs.