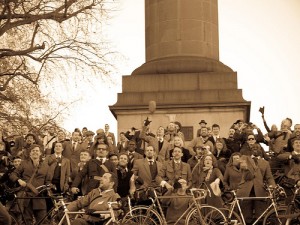 RISD Museum is hosting an afternoon viewing on its first day of public viewing of Artist/Rebel/Dandy in style, with Providence's first Tweed Ride to be held on Sunday April 28th before heading to the museum.
From the RISD Museum Events Page:
Stylish and well-wheeled gents and ladies enjoy a leisurely bicycle parade through downtown Providence in the
city's first-ever Tweed Ride, complete with tea! The excursion ends at the RISD Museum for an afternoon
viewing of Artist/Rebel/Dandy. $10, $5 forstudents (with valid ID).
Registration for the ride is required.