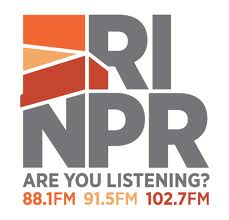 The April 16th edition of RI NPR's Policy & Pinot is all about bicycling in Rhode Island:
Policy & Pinot is our public discussion series held in conjunction with the Providence Athenaeum.

Bicycles in Rhode Island: Tuesday, April 16, 5:30 PM

Providence is striving to become a city where young people want to live and work. For many, having a green way to commute is vital. In this Policy and Pinot we explore how making the city an attractive place to live and bike could boost the capital city's bottom line.

Moderator:
Bradley Campbell – Environment Reporter / Weekend Host, Rhode Island Public Radio

Panel:
Gonzolo Cuervo – Deputy Chief of Staff for Mayor Taveras
Steve Durkee – Architect, Cornish Associates
Bill DeSantis – Director of Bicycle Transportation Planning & Design, Vanasse Hangen Brustlin, Incorporated
Matt Moritz – Rhode Island Bicycle Coalition

The event is free, but seating is limited. RSVP to 401-351-2800 or antonia@ripr.org

Valet parking (for bicycles) will be provided at the event.