Last week, RIBike joined Rhode Island representatives from Bike Newport, the East Coast Greenway Alliance, and the Providence Cyclo-cross Festival at the Women's Bicycling Forum and the National Bike Summit in DC. We returned from three days of workshops and lobbying greatly inspired and ready to apply lessons learned to Rhode Island.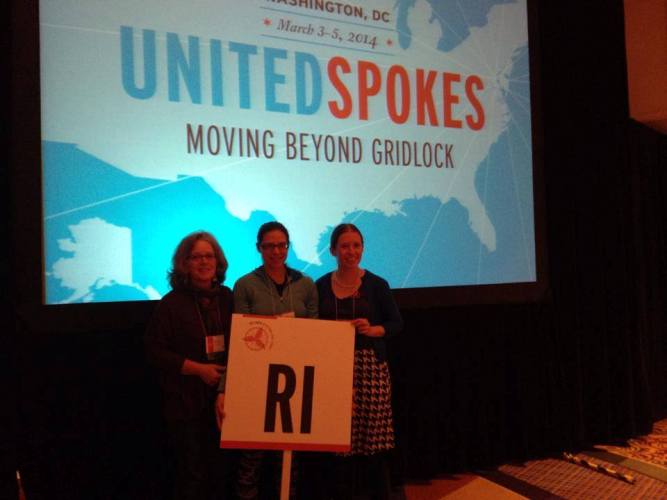 The National Bike Summit draws over 700 bike advocates from around the nation. Together, we hit Capital Hill to lobby for bike-friendly bills. The RI representatives paid visits to Senators Whitehouse and Reed and Congressmen Langevin and Cicilline to lobby for three federal bills—
The Bicycle and Pedestrian Safety Act creates a national goal for reducing bike and pedestrian deaths. Cyclists and pedestrians are vulnerable road users (with bicycle and pedestrians fatalities increasing over the past several years), and it's hard to argue with the creation of a specific performance measure for non-motorized safety.
The Safe Streets Act tries to ensure that states design and build streets for all users – bicyclists and pedestrians in addition to automobile drivers. This bill sets guidelines but does not trigger any new federal spending. Rhode Island already has complete streets legislation, putting us ahead the curve, but it would be great to see complete streets nationally.
The New Opportunities for Bike and Pedestrian Infrastructure Financing Act would create low-interest, long-term loans for communities to build bike and walking networks, and require 25% of funding to be spent in low-income neighborhoods. This would give mayors a tool to create inexpensive and safe transportation options for everyone.
Visiting with our Rhode Island representatives is low-stress because they are so supportive of bicycles. We had great chats and invited the Senators and Congressmen to visit various bike-related events (including the Providence Cyclo-cross Festival and the opening of the Washington Bridge Bikeway) when they are back in the state. We'll be following up to make sure they sign on as co-sponsors of these bills (Congressman Langevin is already a co-sponsor of the Safe Streets Act!).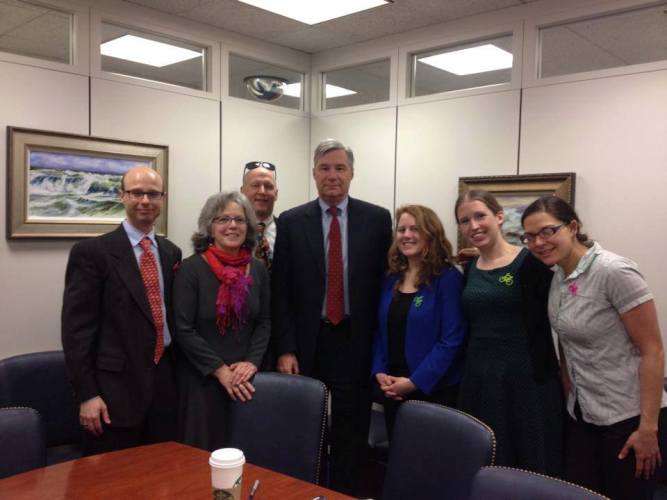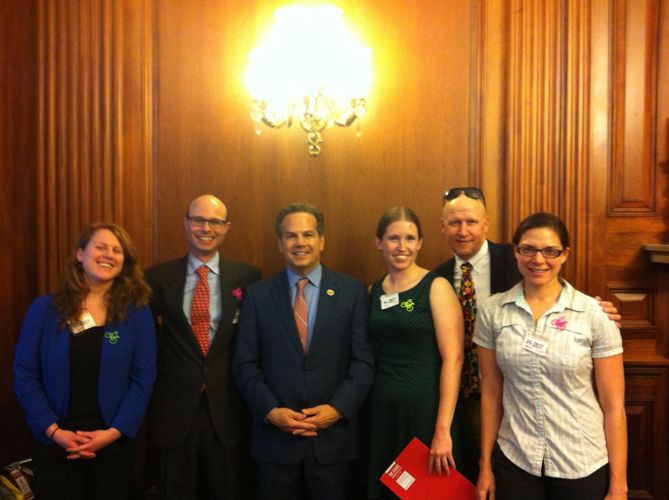 Two days of sessions allowed us to hear about many exciting projects happening in cities nationwide and made us hugely envious of the great bike infrastructure other states and cities are putting in place. We will continue to fight for better bicycle infrastructure in Rhode Island!
One of the clearest messages from the Summit was the key role a bicycle-friendly mayor plays in advancing bike infrastructure and safety. Nearly every city that has made major improvements (quickly!) in recent memory has had a mayor on board: see Chicago, Atlanta, Pittsburgh, and Memphis, to name just a few! Mayor Angel Taveras has created the Providence Bicycle and Pedestrian Advisory Commission and often attended our bike-related events. However, few bike lanes (and no protected lanes) are in place in Providence. This year's election (and especially Democratic primary) gives us a chance to ask candidates about their bicycle-related views and to choose a mayor who shares our vision for a bike- (and pedestrian-) friendly Providence. As Bill Peduto (@billpeduto), the new mayor of Pittsburgh, a city that is beginning to make major improvements in its bicycle infrastructure, said: "If you can do it in Pittsburgh, you can do it anywhere."
RIBike will be asking candidates to share their views on bicycles with our members, and hopefully sitting down with candidates to discuss bike possibilities in more depth. Research has shown that great bicycle infrastructure attracts young people and businesses and helps businesses profit (in addition to benefiting both health and the environment), so we certainly hope our next mayor will be on board!
Some other awesome projects we heard about at the Summit:
We also heard about the new round of TIGER grants, investments in (multimodal) transportation infrastructure. Although only 4.3% of TIGER grant funding in the last round ($154 million) went to bicycle projects, this is a substantial investment relative to other funding sources. We have high hopes that cities in Rhode Island will apply and be competitive for bicycle-related funding!
Want a better idea what the Summit was like? Check out this summary from Streetfilms:
We'd love to have others join our Rhode Island delegation next year!
Overall, RIBike's visit to the National Bike Summit was hugely inspirational, and we returned ready to make a difference in Rhode Island!
–Jen Walsh, RIBike Membership Chair