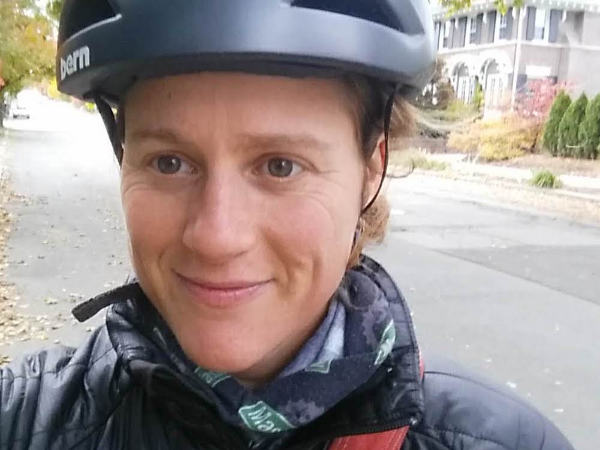 Bicycling is the best way to be an observer yet still cover miles. I can see every blade of grass and appreciate each individual leaf on a tree while covering a lot of miles.
I am a life-long bicycle commuter and I've been known to enjoy a bike tour or two. Sure, I enjoy the savings (no cost parking and no cost for fuel, but my primary motivator is having a lighter impact on mother earth while being an everyday observer.
It's hard to believe that when I was a 5-year-old girl I used to complain when my dad would drag me on the rail trail. Now the bicycle is an integral part of my life. I see small children whining when their parents encourage them to take part in a family ride. I want to tell these parents that they are giving their children a gift. Not every child will grow up wanting to bike everywhere but if we can expose them early on, at least they will be able to make the choice when they are adults.
The fresh air and simplicity of riding my bike is what keeps me coming back to the two wheels. I bike to work year round and try to do as many errands by bicycle that I can. I enjoy getting out of the city and getting on the bike path when I can but I equally appreciate just wandering on back roads in Providence and Pawtucket.
My favorite organized ride is the Woonasquatucket River Watershed Council group ride. I always discover new parts of the state and it is so extremely well organized and it's a great way to support an awesome organization!
Biking is part of my identity. There have been times in my life when I had to take a break from bike commuting and that is when I realized just how much the bicycle gives me. I am more energized, balanced and in touch with my community when I fit in a daily ride.
I fantasize about bicycling the rolling hills of Ireland but for now I'm perfectly content riding around Rhode Island. There is always something new to see and you don't have to travel far.
For newbies, I would suggest staying on quiet back roads until you feel comfortable integrating with cars, and do so gradually. Unfortunately, many drivers are preoccupied with their phones so I always ride with the assumption that the driver doesn't see me. This often means being a little more aggressive and taking up a lane in order to be seen.