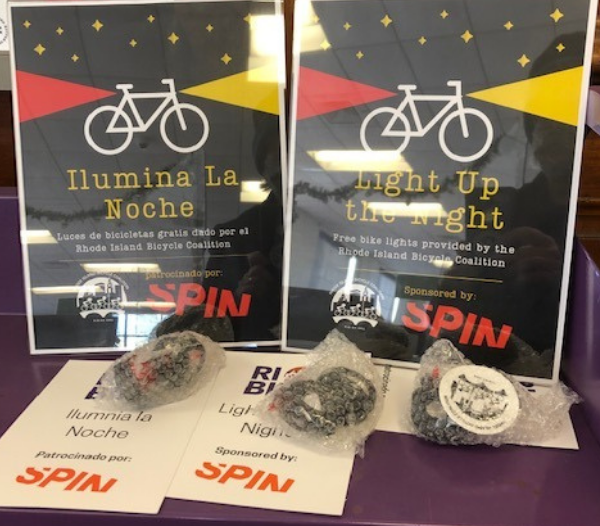 With the colder and darker months upon us, we are proud to announce that Light Up the Night is underway! Light Up the Night is a long-standing RI Bike program that serves the community by providing free bike lights to residents. As in 2020, we are partnering with the Providence Community Library system to spread light across the capital city.
As we all know, bicycling is at the nexus of public health, personal wellness, social justice and climate change. Replacing a car trip with a bicycle ride benefits all by reducing traffic, avoiding emissions and reducing the overall cost of transportation. The Rhode Island Bicycle Coalition is dedicated to making cycling a viable transportation and recreational alternative throughout Rhode Island. All residents should be able to safely access bicycling for commuting, running errands, going to school, accessing the arts and simply for fun, without regard to age, ability or experience on two wheels.
One oft-cited impediment to choosing a bicycle is safety. Many are simply afraid to ride in a motorized environment. By providing an essential piece of safety equipment, Light Up the Night helps people ride more safely and confidently. It is our expectation that once people experience the myriad benefits and joys of riding their bicycles for everyday activities, they will continue. Then, as more people choose to ride bicycles, the safety for all riders improves and the happy upward spiral begins. Light Up the Night is a simple program but one that can spark behavioral changes that benefit individuals and society as a whole.
By partnering with Providence Community libraries, we expect to be able to reach residents of all ages and in all corners of the city. Library patrons need only stop by the display and pick up a set of lights, while supplies last. Take a picture for us and send it to info@ribike.org so we can see your smiling faces.
Thank you to this year's sponsor SPIN and to the staff and administration of the Providence Community Libraries for their dedication to the community.