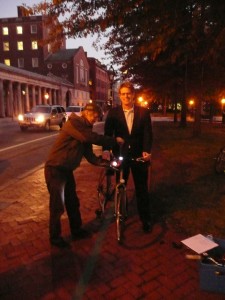 On Tuesday, November 1st, 2011, volunteers for RIBIKE, for the second year running, spread out to 3 locations across the City of Providence to equip bicycles with front and rear blinky lights.  By partnering with Legend Bicycles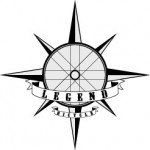 and Planet Bike, we were able to get 100 front and rear blinky safety lights to be installed at no charge.  Legend Bicycles covered the cost of  purchasing the lights from Planet Bike at wholesale prices.  As we've all seen, many riders are riding at night at night without this very important piece of safety equipment.
Starting around 5PM, volunteers on Broadway, Brook Street and North Main Street flagged down passing riders without lights and installed nearly 100 light sets in approximately, finishing at around 7:30.  Some passersby went home to retrieve their bikes for this once a year opportunity.  One volunteer at the North Main station received a text from a friend with a tip to head to Broadway and Ringgold to get a free set of bike lights.
RIBIKE thanks its partners for this event, Planet Bike, which donates 25% of its profits to bicycle advocacy, Legend Bicycle, and especially Jack Madden, for continue support and organization of this event, and Recycle-A-Bike volunteers for helping on the night of the event.
We also thank everyone who stopped and increased their night time riding safety by listening to crazy people shouting "free lights" on the side of a street for us to install the lights.
Below are some images taken during the event.
[imagebrowser id=3]