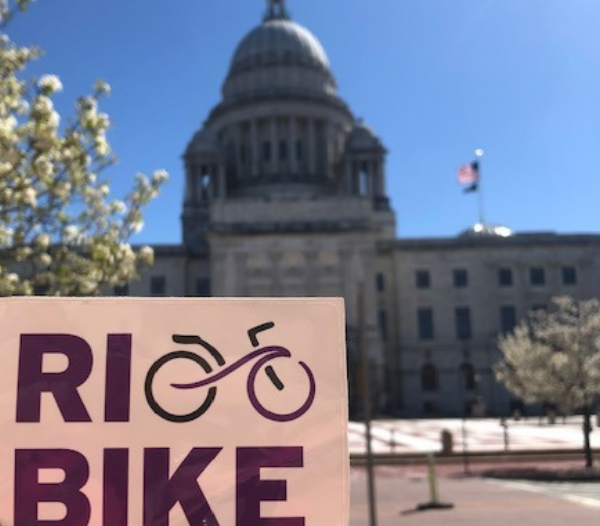 Tuesday April 26th was another late night at the Statehouse. We were proud to attend the House Finance Committee to express our support for House Bill 6634 exempting bicycles from sales tax and House Bill 8113 to add a $25 million referendum to the state ballot to fund the Bicycle Mobility Plan.
Introduced by Representative Handy, H6634 would exempt bicycle sales from state sales tax. H6634 is a simple bill with a simple objective–to help more Rhode Island individuals and families afford bicycles.
As you undoubtedly know, many individual items are currently exempt from Rhode Island sales tax–food, clothing, shoes, containers, for example–and these examples benefit all individuals and families in the Ocean State. Indeed, other forms of recreation and transportation–boats and aircraft, specifically–are also exempt from state sales tax, yet only benefit relatively high net worth individuals. We believe that bicycles should be added to the list of items that are exempt from sales tax because so many Rhode Islanders would benefit from this relief. Picture a family of four trying to make sure each member has an appropriately sized bicycle and you can see how helpful this exemption will be. In addition, as more and more Rhode Island residents replace car trips with bicycle trips, the entire state will reap the economic, health, environmental and social benefits.
In addition, we provided written and verbal testimony in support of H8113, introduced by Representative Tanzi. This bill proposes to add a $25 million referendum to the state ballot in November 2022 to fund the Bicycle Mobility Plan. Officially adopted by the state in 2020, the Bicycle Mobility Plan (BMP) provides a comprehensive vision of completed and connected active transportation infrastructure. The funds specified in this bill would be vital in helping Rhode Island fulfill the promise of the Bicycle Mobility Plan and link more residents to safe non-motorized transportation options.
Spending on greenways and urban paths for active transportation is a great investment in economic recovery, public health, fighting climate change and social equity. In the immediate term, building bicycle infrastructure creates more jobs than any other type of transportation spending, connects residents with safe travel options and reduces carbon emissions. Over the longer term, through induced and indirect spending, bike lanes create sales and service jobs, improve property values, draw tourists and reduce health care costs. Active travel infrastructure is a true investment–upfront spending pays back over time.
Rhode Island voters have demonstrated repeatedly that they want their tax dollars invested in bicycle infrastructure. Both the 2016 and especially the 2018 Green Economy Bonds passed by very large majorities. Furthermore, the Bicycle Mobility Plan itself was developed through a robust public vetting process–it represents the hopes and wishes of the people of Rhode Island. We believe voters should have the opportunity to let their wishes be heard again in the 2022 election.
Both bills are currently held for further study in the House Finance Committee. It is our hope that they will soon vote on whether to send them to the floor of the House. You can add your support by contacting your Representative in the House. Find your voter information, including your elected officials, here. Of course, your letter need not be long or complicated. Simply state your support for H6634 and H8113 and perhaps why you think they are important.
Looking forward, we will need to repeat much of this process in the Rhode Island Senate. Keep your pencils sharp and look for our announcements about additional hearings.
As always, we are thankful for your active participation and support of our mission.