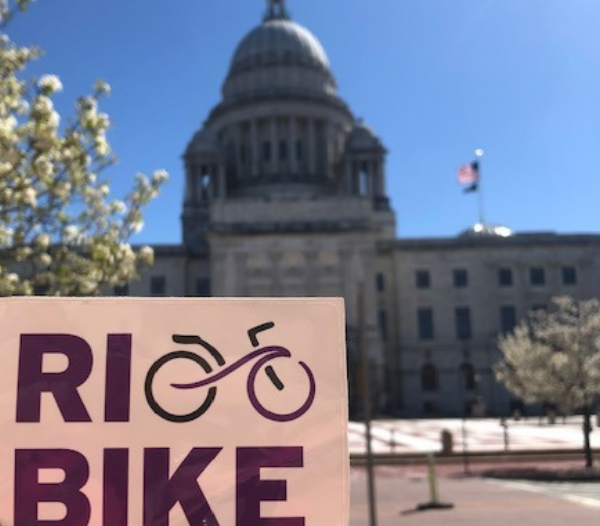 It has been a busy legislative season, so far, with several bills pending in the General Assembly.
Last year, after a full decade of work, we celebrated the enactment of the Vulnerable Road Users Law which provides important new protections for those who travel without the benefit of a motor vehicle. Less happily, we had another bill, the Roadway Safety Act that did not pass out of committee. We are, however, undeterred and have a robust legislative agenda this year with three priorities–electric bicycle regulation, a state sales tax exemption for all bicycles sales and a reconfigured Roadway Safety Act.
We are quite hopeful about the electric bicycle legislation. Here is where it stands.
The subject of a front page, above the fold article by Patrick Anderson in the Providence Journal recently, our electric bicycle bill H7839 is making its way through the General Assembly. Introduced in the House of Representatives by Representative Rebecca Kislak, the bill has two major components. First, the bill stipulates that electric bicycles are bicycles. That means that they cannot be subject to registration, personal property tax and riders will not be required to hold bicycle licenses. Further, the bill defines three classes of electric bicycles or ebikes–all speed limited.
Class 1 electric bicycles–pedal assist only and limited to 20 miles per hour
Class 2 electric bicycles–throttled and limited to 20 miles per hour
Class 3 electric bicycles–pedal assist only and limited to 28 miles per hour
The proposed law conforms precisely to laws in 36 other states and very closely to 10 others as well as 4 federal agencies. Massachusetts is considering an electric bicycle bill this session, too.
Importantly, we consider a consistent state policy like this tantamount to a consumer protection regulation as it allows individuals to purchase electric bicycles with full understanding of how and where they can be used. When people prepare to purchase an electric bicycle, they typically have specific uses in mind. Consumers and merchants need clear policy like the proposed law in order to select the right electric bicycle.
As things stand now, it is unclear whether electric bicycles are legal on Rhode Island's bicycle paths, even though they are now a common sight on all of them. Once enacted, this bill will bring RI policy in line with what is already happening in the state, what is law elsewhere and what is commonly assumed to be the appropriate way to use these bicycles.
The bill currently is held for further study in the House Committee on Corporations. It is our hope that they will soon vote on whether to send the bill to the floor of the House. You can support this bill by contacting your Representative in the House. Find your voter information, including your elected officials, here. Of course, your letter need not be long or complicated. Simply state your support for H7839 and perhaps why you think it is important.
As always, we are thankful for your active participation and support of our mission.