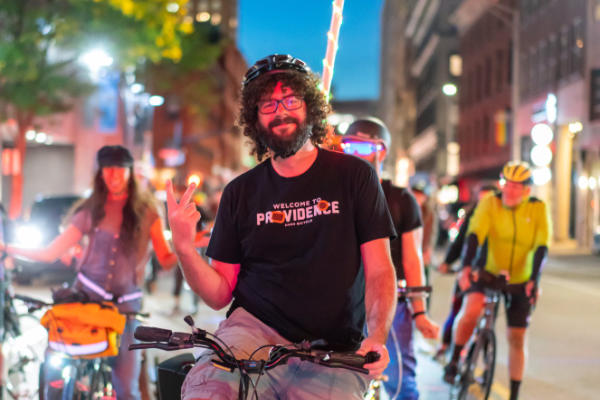 I wouldn't always have considered myself a biker.
I first learned to ride six blocks and 30 or so years from where I sit now, on a root-cracked sidewalk on the West End of Providence. It was training wheels at first, then dad running alongside me with one steadying hand on the seat. Then that split second of elation you've seen in a hundred home movies, a child realizing the secret knowledge of how to balance on two wheels.
Races up and down the street with neighborhood kids, occasional trips with my brothers and uncle to the East Bay path, the bike never graduated beyond a toy taken out on occasion for kicks. Not yet essential, and it got less so as the years wheeled on by.
School. Desk job. Beer. TV. Sedentary lifestyle. High cholesterol. Dr.'s recommendations. You've heard this part before. Gym? Gave it a shot. Boring. Running? Hard on the knees, and boring. If a coworker hadn't organized a Ride to Work day for Bike Month I might not have dug out the dusty, rusty, department store mountain bike I had bought some years ago only to ride twice and then bury in the basement. But I did, and using it to replace 10 miles of my 30 mile commute was the second time I felt an intense revelation on a bike.
Why was I sucking in the chemical air of my car's vents when I could breathe fresh instead? Why was I caging myself in when I could be free outside? Clichés I know, but a jolt of clarity to me, and the beginning of a new lifestyle. I started to resent driving, I was getting healthier, and it was not boring.
But how to ensure that it stayed interesting so I didn't fall back into bad habits?
I have a project that I've been working on for a while now, a map of Rhode Island generated entirely by the GPS data from bike rides that I've done. With that in my head, I'm always looking for new roads to ride, and different routes and shortcuts get prioritized. It'll keep me busy for years.
Also, inspired by Boston Bike Party's nighttime group rides, Providence Bike Jam is a monthly socially-oriented party ride that I help organize with a crew of volunteers. It's nice to not just ride for exercise, and groups like this also help tighten the community, and has helped me meet some life-long friends.
Biking is good, healthy, fun.