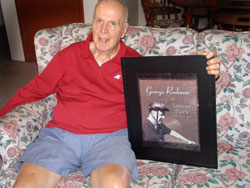 It's a sad day for RI bicycle advocates.  We received word that the "Father of the East Bay Bike Path" passed away yesterday.  Steve Church let us know that he:
received a phone call this morning from Mrs. Redman and she informed me that George Redman passed away yesterday.  George was one of the founding pioneers in the development of Rhode Island's bike path network.  George was honored at a community event on November 29, 2011 at the State House. Governor Lincoln D. Chafee, RIDOT Director Michael Lewis, RIDEM Director Janet Coit and more than 150 others celebrated Mr. Redman's tireless advocacy for getting the East Bay Bike Path built. Construction of this bike path kick-started the development of bike paths statewide, leaving a unique legacy for residents and visitors to Rhode Island. When opened, the new Washington Bridge Linear Park will be named the George Redman Linear Park, due to his instrumental work making the East Bay Bike Path a reality 25 years ago. George's family is in the process of making final arrangements, and details are expected in tomorrow's newspaper.
We will post a followup once we learn of any funeral arrangements.
It is now up to the rest of us advocates to follow in George's footsteps and continue to build on his legacy.  He is a great example of what can be done if you follow your heart, put your mind to something, and never take no for an answer.