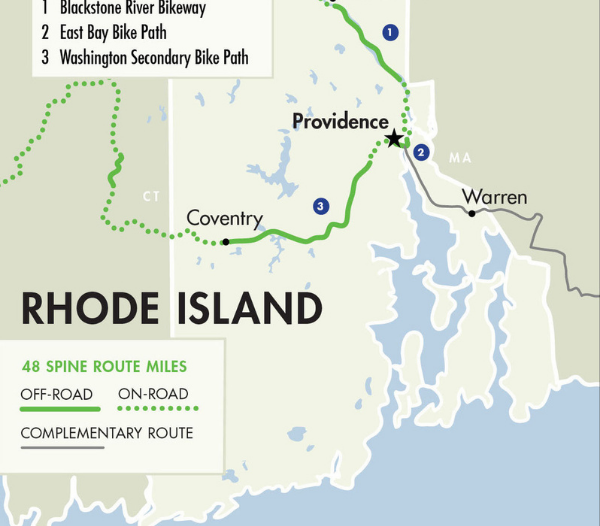 Did you know that America's most visited park is partly in Rhode Island? The East Coast Greenway boasts over 50 million trips walking, cycling and running last year alone, making it the most visited park in the country. And, since there are few sections of the Greenway in the Ocean State, Rhode Islanders make up part of that number.
If you are unfamiliar, the East Coast Greenway is a 3,000 mile connecting route from Maine to Florida which aims to promote active transportation and healthy recreation. Some parts of the route are quite rural and others take users through cities along the coast. As it states on its webpage, "The Greenway offers a safe place for bicyclists, walkers, runners, and more — of all ages and abilities — to commute, exercise, and visit new destinations."
Here in Rhode Island the Blackstone River Greenway and the Washington Secondary Trail are part of the Greenway. In addition, there are segments in Providence, including the Gano Park path and the route over the Bike-Pedestrian Bridge. The East Coast Greenway site has a handy mapping tool to help you plan your ride.
There is still plenty of great riding weather left this year, so check out the RI sections of the Greenway and be a part of a much larger effort to connect people and places.