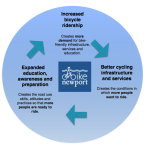 2015 has been a banner year!
Bike Newport continues to gain traction on the roads, in the community, and around the region. Our "By the Numbers" card details exciting progress: more bike education, more bike infrastructure, and more bike riders. That's the Bike Newport story – MORE and BETTER bicycling.
Read more on the Bike Newport blog!