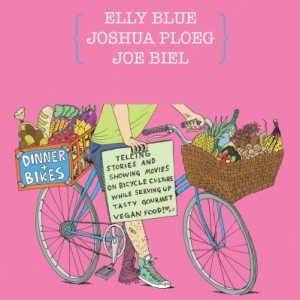 What is the Dinner and Bikes Tour?
Simply put, its Dinner and a Movie plus an author talk, all in one event.
Joshua Ploeg will delight with a vegan and gluten-free buffet dinner, Elly Blue will present about Bikenomics and the economic case for bicycling, and Joe Biel will show either a program of short films or his new feature-length documentary, Aftermass, about the history of bicycle activism in Portland, OR.  Book signing and time for discussion of local issues, questions of the tour members follow the presentation.
Admission cost:  $12-$25 buy online (pay what you can), $30 at the door, includes dinner.

About Dinner and Bikes
The fourth annual Dinner & Bikes is a month-long tour of the U.S. East Coast in June, 2014. Our events bring people together to eat delicious food and get inspired about bicycle transportation.   The tour features vegan chef Joshua Ploeg, author, filmmaker and publisher Joe Biel, and author Elly Blue.  Learn more about Joe, Joshua and Elly on the Dinner and Bikes website.
Event Details
Date:
Friday, June 6, 2014
7pm to 10pm
Location:
Church of the Redeemer, 655 Hope Street, Providence.   We will be using the church community space, entrance will be at the rear of the church from Savoy street.
Parking:
We are hoping to offer complimentary off-street bicycle valet for the event.
Ample street parking nearby for automobiles.
!No alcoholic beverages permitted!
Tickets
Advance purchase recommended, attendance limited to 75.
Purchase tickets at this page on the RIBIKE website.