The Narragansett Bay Commission(NBC) has published a notice that due to the work to begin on Sept. 25, 2011, a portion of the Woonasquatucket River Bike Path will be closed and detoured.  Project is slated to run through February 2013.  The closure is in order for the NBC is redirect and combine several sewer overflows away from the river and bay towards the Fields point wastewater center.
The detour is around 3/4 mile of closed path at the south end of the path, from Sheridan Street to the Greenfield Bridge Underpass along Manton Avenue.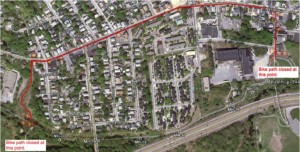 The NBC announcement and a map of the detour are available from the NBC website.