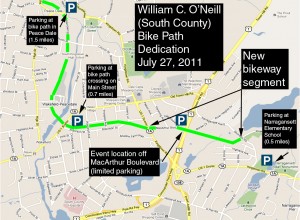 Wednesday, July 27, 2011 at 1:30 p.m.
100 MacArthur Boulevard, South Kingstown, RI
This item comes from a press release made by RIDOT and the Friends of the South County Bike Path.
The Friends of South County's William C. O'Neill Bike Path are pleased to announce the ribbon cutting for Phase 3 of this seven-mile bike path. This .8-mile section of trail will connect the Town of South Kingstown to the Town ofNarragansett at Mumford Road using the old railroad tunnel to pass under Rt. 1.This will provide cyclists and pedestrian a safe and virtually car-free route for thefirst time linking these two towns.
All are invited to join Governor Lincoln Chafee, DOT Director Michael Lewis, and the two Town's officials for this event at the Tunnel entrance on Wednesday, July27th at 1:30 p.m. The tunnel is located just off MacArthur Blvd. about 1200 feet from Kingstown Rd., (Rt. 108) in Wakefield.
Earmarked Federal funding which Governor Chafee established when he wasSenator, made the construction of this phase possible. We are very fortunate for his vision to expand Rhode Islands intermodal transportation system with bikepaths, which also promote economic development and healthier communities whilereducing our country's dependency on petroleum. We are also grateful for thecooperative effort made by both South Kingstown and Narragansett to enable this project to be accomplished. Each Town has assumed responsibility to maintain itssection of the bike path. If we can be of further assistance, contact us at 401-783-8886 or the South County Tourism Council at 401-789-4422.
Parking
There is limited on-street parking near the event site. Car pooling is recommended. Guests can also park at Narragansett Elementary School on Mumford Road or in parking lots adjacent to the bike path in South Kingstown (see directions below).  Attendees are invited to walk or cycle to the event.
Directions to Bikeway Dedication
(see map above, click for larger version)
From Points North: I-95 South to Exit 9 to Route 4 South. Follow Route 4 onto Route 1 South. Take the Narragansett exit (the first exit after the Wakefield exit). At the end of the ramp, turn right onto Route 108 North. Take the first right (after Rhody Joe's Restaurant) onto MacArthur Boulevard. The entrance to the bike path is about a ¼ mile on the right.
From Points South and West: Follow Route 1 North to the Narragansett/Point Judith exit. At the end of the ramp, turnright onto Woodruff Avenue. Turn left onto Route 108 North. Take the second exit at the Dillon Rotary to continue on Route108 North. Turn right onto MacArthur Boulevard and follow the directions above.
Cycling to the event via the William C. O'Neill Bike Path fr om Narragansett:
Riders can park at Narragansett Elementary School on Mumford Road. Follow Mumford Road North about 500 feet to the path entrance and follow the path about a ½ mile to the event site.
Cycling to the event via the William C. O'Neill Bike Path from South Kingstown:
Riders can park at three locations,depending on the distance they wish to cycle. Parking locations and distances from the event site include: KingstonStation off Route 138 (5.5 miles), Peace Dale village on Kingstown Road at Railroad Street (1.5 miles), and the Wakefield Intermodal Parking Center on Main Street near Robinson Street (0.7 miles).
Address for GPS: 100 MacArthur Boulevard, South Kingstown
RSVP to Bryan Lucier at blucier@dot.ri.gov or 401-222-1362, Ext. 4012 by July 25, 2011