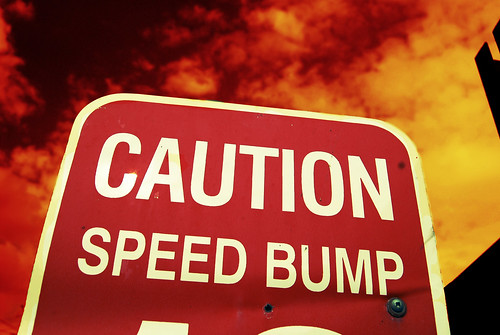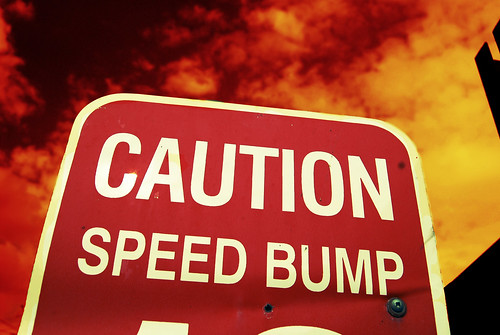 A bicycling user of the Coventry Greenway notified me that there is a dangerous bump on one of the trestle bridges on the newly completed trail segment.  In the middle of one of the bridges, affecting traffic both directions is a very difficult to see and very severe bump in the decking that has caused at least 1 crash and a near crash as reported below:
… The surface is very nice and the landscaping is tasteful. I was on it for the first time after work today and discovered a structural hazard to cyclists.  There is one trestle bridge overpass that has an unmarked speed bump running across the center!  I hit that thing full on at slightly over 20 mph tonight and I dont' know how I managed to stay upright….
RIDOT Customer Service has been notified and I've contacted Steve Church at RIDOT to see if anything can be done to repair or better warn riders of what I believe is an unintentional and dangerous warping in the bridge deck.
[UPDATE]
Steve Church responded that this issue was raised by another path user in March and passed along to the Project Manager, and that the temporary step of putting marking paint on the bump was taken in early April.   The paint has faded at this point, but the Town of Coventry's Directory of Parks and Recreation, Guy LeFebvre indicates that new marking paint will be applied to the bump, the railings around the bump, and signs placed on the bridge.
Guy also pointed out that the segment path is still under construction and closed to all users:
We are aware of the bump in the bridge decking, likely caused by expansion of the deck boards themselves.

We have repainted it again and will continue to repaint it as it fades.  We have painted the rails beside it as well and are placing signs at each end of the bridge to forewarn patrons who are still using our CLOSED bike path.

There are many details yet to be completed and then there will be a punch list of items as well.  Please advise all that you can that the path is still under construction and remains closed.