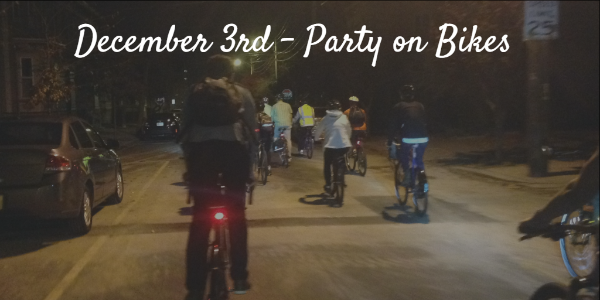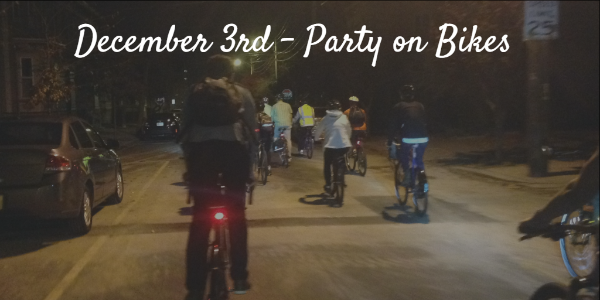 Welcome to Cycle Tracks, RIBike's bi-weekly email newsletter.
It may be getting colder outside, but things are heating up for bike in Rhode Island! Here's what's going on:
Bike the Night has been going great! We've had nearly 50 people both times. Come join the fun! The next of these evening slow rides is Thursday, December 3rd and there will be free holiday give-aways for the first 50 people to arrive. Meet at the steps of Providence City Hall at 6:00 with your bike, helmet, and lights, and enjoy exploring the city in a leisurely group. The ride takes about an hour. See you there!
The first screening of our monthly bike film series, called Bikes Camera Action, was great! The series is the second Tuesday of every month this winter at 6pm at Cable Car Cinema on South Main Street in Providence. The next film is "For the Love of Mud: A Film About Cyclo-Cross" and is on Tuesday, December 8th. Tickets are $12, or $10 for members of RIBike (members, it's the same discount code as last time, so check your email!). Come out and enjoy the awesome viewing experience at Cable Car, hang out with other people who like bikes, and support RIBike in the process!
We're at it again, giving away bike lights to people who need them! Light Up the Night is back this year, thanks to support from AAA Northeast. If you also want to support this important bike safety program, let us know! We need volunteers tomorrow night, Tuesday 11/17, to help hand out lights. Email info@ribike.org to get involved!
There is a lot going on with transportation funding at the state level. RIDOT, the Governor's office, and the General Assembly are all thinking right now about RhodeWorks, the administration's proposal for a 10-year transportation improvement plan. Truck tolls are one piece of RhodeWorks, but there are additional details important to bicycling infrastructure. Read more in RIBike's summary and Bike Newport's summary. We are working with diverse partners to make sure that our bike path network is completed and our streets are made safer. Get involved if you want to help.
Are you a female-identifying person who wants to learn more about biking in the winter? This Thursday, 11/19, at Legend Bikes on Providence's Brook Street, you can learn all about it, starting at 5:30! See our events calendar for all the info.
This Wednesday, 11/18 is the monthly meeting of Providence's Bicycle & Pedestrian Advisory Commission(BPAC). This is the official City committee for looking at bike & ped recommendations. They're always great, so come on out if you're a Providence resident!
Thanks to everyone who contacted your Congressmen about preserving federal bike funding in the Federal Transportation Bill! The three amendments that would have slashed bike funding earlier this month were defeated. Stay up to date by following the League of American Bicyclists and PeopleForBikes.
Every week we have Member Monday, where we give away a small item to a randomly-selected current member of the Coalition. RIBike board member Sarah Mitchell is a talented painter, and donated several of her greeting cards, some of which we're giving away today. The lucky member this week is Joanna Detz! Thanks for being a member of RIBike, Joanna!
If you visited Newport this summer, you may have noticed the waving street banners lining Memorial Blvd and other major thoroughfares asking all road users to – you guessed it – WAVE! The Newport community is coming together to improve safety on their busy roads, so WATCH and SHARE the video to get residents and visitors involved and like the Facebook page to see how the message is spreading. Own a local business? Own this campaign too. Say I see you. WAVE. #dothewave #rollnice #strollnice.
Bicyclists of RI is happening. Do you know the humungously popular "Humans of New York" series? Yeah, we're doing that. Except for people on bikes. In Rhode Island. If you want to participate, sign up here. It's on Instagram, so check it out!