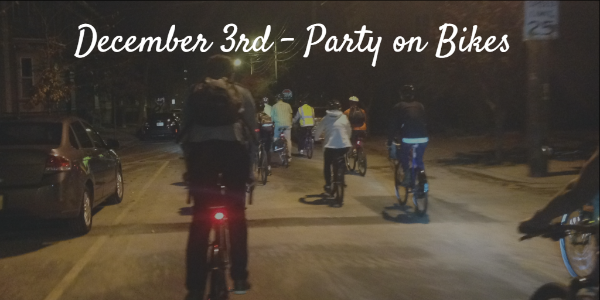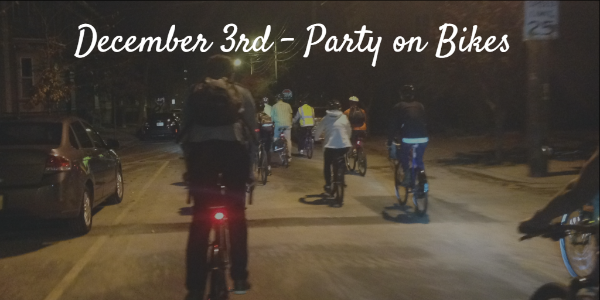 Welcome to Cycle Tracks, RIBike's bi-weekly email newsletter.
While our tummies still remember the Thanksgiving cornucopia and we're yearning for a fire to gather round with family for the holidays, now is a busy time for bikes in Rhode Island. Events, ensuring bike advocacy continues, and the TIP, all happening now! Read more:
The next film in our monthly winter film series is "For the Love of Mud: A Film About Cyclo-Cross" and is NEXT Tuesday, December 8th. Tickets are $12, or $10 for members of RIBike (members, it's the same discount code as last time, so check your email!). Come out and enjoy the awesome viewing experience at Cable Car, hang out with other people who like bikes, and support RIBike in the process!
The next Bike the Night is TOMORROW, December 3rd and there will be free holiday give-aways for the first 50 people to arrive. Meet at the steps of Providence City Hall at 6:00 with your bike, helmet, and lights, and enjoy exploring the city in a leisurely group. The ride takes about an hour. See you there!
Did you miss Giving Tuesday? Never fear! RIBike is a 501(c)(3) charity ALL MONTH (actually all of the time, not just this month.) and is a worthy recipient of your tax-deductible contributions! Become a member if you haven't already (100% tax-deductible) or consider giving more. Your support is what makes our work possible, so we thank you.
Our monthly speaker series, BikeTalk, is back! TONIGHT, Wednesday 12/2, 6:00pm at AS220, come hear Liza Burkin and Randi Braunstein, two leaders of the women's bicycling movement in RI, talk about their work to make bicycling comfortable and fun for women across the state.
There are two workshops later this week to clarify how to submit projects for the state's new Transportation Improvement Plan. RIBike representatives will be there in force, but if you're planning to submit for the new TIP, these will be very illuminating. Thursday, December 3 at 6:00pm, and Friday, December 4 at 1:00pm, at the Department of Administration building.
There were two forums yesterday where RIBike staff and board told RIDOT leadership about how bicycling is a priority!
First, the Coalition for Transportation Choices organized an event this morning attended by numerous elected officials and RI policy leaders on improving transit in the state. RIBike board member Rep. Teresa Tanzi sat on a panel alongside RIDOT Deputy Director Peter Garino and other important transportation policymakers from across the state.
In the afternoon, there was a roundtable organized by the Environmental Council of RI with Mr. Garino, focused on sustainable transportation. He answered many questions; stay tuned for a blog post about what we learned.
The Woonasquatucket River Watershed Council continues to push forward with the bike path expansion in Johnston. They are meeting again with Johnston residents who live in the area of Lyman Avenue to present short term solutions regarding lighting, policing, bollards and no parking signage. They will also review bike- path expansion options to Cricket Field with residents. Additionally, they are working with RIDOT on final development of the Request for Qualifications for design of an off-road Greenway along Promenade and Kinsley Avenue in Providence. Busy folks!
The NBX Gran Prix of Cyclocross is this weekend at Goddard Park in East Greenwich: December 5th and 6th (Saturday and Sunday). There is racing for all ages, including a kids' race, as well as CAT 5-1. Come watch UCI Elite race with top racers from around the nation. Expo, food trucks, and fire pits should make for a great weekend!
What better combination than bikes and warm winter wear? Bike Newport will be Santa's little helpers on December 12th and 13th, when we staff Patagonia on Thames's complimentary gift wrapping station. Patagonia will generously donate 10% of all weekend sales to Bike Newport. Come to shop, celebrate bikes and outdoor gear all winter long!