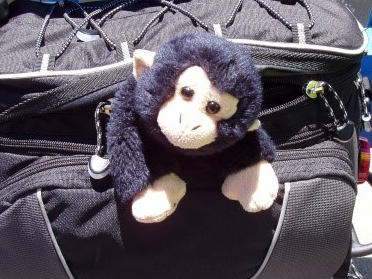 My name is Bronxie. I live in Smithfield, I am 17 years old, and I am a bike buddy. My sole purpose, the reason for my existence, is to ride on a bike.
When my human and I ride our bike, it is usually for recreation. My human tells me that riding a bike reminds her of when she was a kid, and she loves how freeing and energizing it is. She really enjoys getting some exercise along the way, too.
Sometimes we go for rides on roads. We'll decide how far we want to ride, and then pick a loop that's close to the mileage we want. It's important that the loop includes a place where we can get ice cream. Also, we prefer not-too-hilly rides, because my legs can't reach the pedals so my human has to do all the work herself. But I'm an awesome cheerleader when we encounter a steep hill!!
Most times we go for rides on bike paths. We've decided that riding on busy roads with fast cars buzzing by isn't as much fun as we want our bicycling adventure to be.
Fortunately, Rhode Island has really great bike paths!! We especially like the Blackstone River Bike Path (because it's near where we live, and it's great for seeing wildlife along the river, especially turtles and herons!), the East Bay Bike Path (because we love Colt State Park in Bristol), and the South County Bike Path (an excellent way to get to Narragansett and the beach!).
We have some pals who like to go on overnight tours, and we've gone with them a few times. There's a lot more to think about with overnight trips. The best challenge is deciding what ABSOLUTELY has to come on the bicycle. If the bike load gets too heavy, my human starts whining and then I don't get to eat dinner jk
We've gone on overnights on Cape Cod (a combination of roads / bike paths) from Bourne to Chatham, and another time from Bourne to Falmouth. We've ridden the Minuteman Trail into Boston for an overnight to see the fireworks on the 4th of July. We've ridden our bikes in Brittany (France) twice, and we've ridden weeklong rides on the Erie Canal Trail in New York, the Katy Trail in Missouri and The Gap trail in Pennsylvania / Maryland.
My human says it's an amazing feeling of accomplishment to finish any ride, single day or multiple-day. But a multiple-day ride means you ride every day, rain or shine – so finishing the ride on a rainy day is extra sweet. You can trust her. She definitely wouldn't make that up!!!