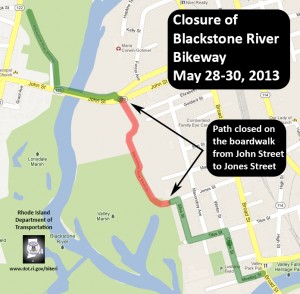 On Friday May 24 RIDOT  announced that the Blackstone River Bikeway will be closed in the Lonsdale Marsh area to work on the boardwalks.  Work is scheduled for May 28 to May 30.  The path will be closed between Route 123 (John Street) and Jones Street entrance.
A suggested detour includes cautions of narrow lanes and parked vehicles along Route 123 (John Street) and Broad Street.  RIDOT also suggests the route is inappropriate for inexperienced riders and families.  Follow Route 123 to Broad Street.   There are sidewalks available to southbound travelers along Route 123 and Broad Street .
Unfortunately, and as per usual, RIDOT announced this closure on the last weekday before a long weekend, giving very little time for those who do use this route to plan appropriately.
See below for full text of the press release and an annotated map with the suggested detour indicated.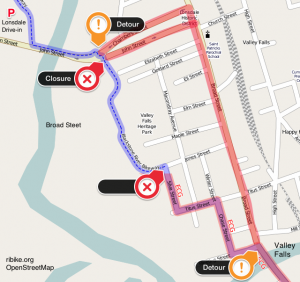 Media Advisory: Temporary Closure of Blackstone River Bikeway Near Boardwalk Next Week

The Rhode Island Department of Transportation (RIDOT) announced that next week it will temporarily close a section of the Blackstone River Bikeway. RIDOT will be working on a boardwalk in the Lonsdale Marsh, just south of where the path intersects Route 123 (John Street) in Cumberland.

WHAT: RIDOT is closing a section of the Blackstone River Bikeway in Cumberland, between Route 123 (John Street) and Jones Street in order to stain the boardwalk deck. The boardwalk opened in April 2008 and is one of the signature features of the bikeway, which stretches 11.6 miles from Valley Falls Heritage Park in Cumberland to River's Edge Park in Woonsocket.

WHEN: May 28-30, 2013.

WHERE: Blackstone River Bikeway, between Route 123 (John Street) and Jones Street in Cumberland.

DETOUR: Cyclists can follow Route 123 to Broad Street, but should exercise caution given narrow shoulders and on-street parking. Sidewalks are available along the route toward Valley Falls. Families and inexperienced riders on the bikeway should consider ending their ride at the Lonsdale parking lot and reversing direction.

VISUALS: A map of the area can be found on RIDOT's website at www.dot.ri.gov/bikeri.

For more information, visit www.dot.ri.gov, RIDOT's Facebook page at www.facebook.com/RIDOTNews or subscribe to our Twitter feed at www.twitter.com/RIDOTNews.

Contact: Rose Amoros (401) 222-1362, Ext. 4450

Related links

Department or agency: Department of Transportation

Online: http://www.dot.ri.gov

Release date: 05-24-2013