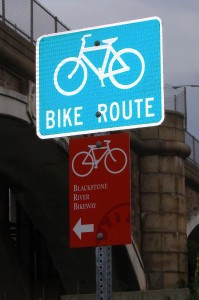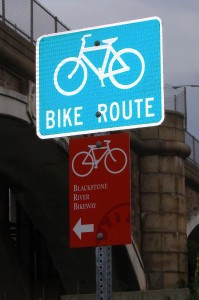 This past Monday, I rode along the East Bay and Blackstone River bicycle paths and through a now well-marked network of public roadways which connect them.  Bridging these two bike paths to create one, near 35 mile stretch from Woonsocket to Bristol is the vision of Bob Billington, Executive Director of the Blackstone Valley Tourism Council. Instead of waiting years for funding to build a dedicated bike-way connecting the existing paths, Bob and a collaborative team of planners and engineers from RIDOT and the municipalities involved laid out a route along existing roads and marked it with pavement paint and signage.  It is a low-cost wonder with real power in several ways:
1) For Bicycle Commuting:  The connector route provides a vital transportation link between Woonsocket, where bus service has been cut, and Providence.  Studies show that employees who bicycle to work are likely to be healthier, more productive and to cost less in health care benefits.
2) For Recreational Cycling:  The connector links the boats and beaches of Narragansett Bay to the historic old mills of the Blackstone Valley ~ the roots of the global industrial revolution. Opening the corridor for two-wheeled sightseers, regardless their starting point, is a boon for increased tourism and a potential boost to small businesses along the way.
3) Immediate Gratification:  The connector route is delivering benefits to fitness, fun and transportation right now!
Is it a perfect route?  No.  But even locals who drive know those do not exist.  It is a signed route on public streets with "sharrows" (shared road markings) on the pavement and burnt orange street signs pointing the way.  There are a few small but thoroughly manageable hills. There is a temporary section where you have to take the lane and share the road with motorists (i.e., no room to pass or be passed).  And there is a section, again, temporary due to construction, past an on-ramp to 95 North where smart cyclists will check over their shoulder then, move left, taking the lane, so drivers can get to the ramp without collecting a bicycle.
But, if you know how to ride a bicycle beyond your driveway (going with, not against, traffic, using your hand signals, taking the lane when appropriate and, generally, understanding that the increased maneuverability of a bicycle does not relinquish you from following the rules of the road (or common sense)), then the new connector will work for you.
Pawtucket Mayor, Donald Grebien was one of the 40 or so cyclists who gave it a try and rode all or part of the day's route from East Providence to the base of the Blackstone path in Cumberland.  The ride clearly inspired him to spend more time bicycling in his town — and I hope that it inspires his constituents to do the same.  The health benefits will be significant as will be the contribution to cleaner air and the traffic to local businesses.
When Bob Billington first announced this project, a lot of people chuckled.  Well, it's done! And it's a potentially significant contribution to a healthier, cleaner, more sustainable Rhode Island.  "Chapeau," as they say in the pro cycling world, to Bob and everyone who helped make the connector a reality.