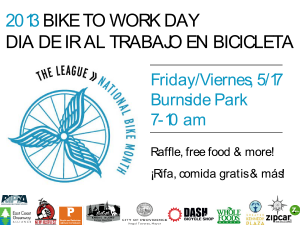 RIBIKE this year partnered with the City of Providence Healthy Communities Office to organize our annual invitation to everyone to ride a bicycle to work, and for those who ride already, to stop by and enjoy a treat courtesy of our sponsors.
Dash and Legend Bicycle Shops will be on hand, with repair services being offered by Dash Bicycle.  RIPTA representatives will be on hand to help with learning to use Rack-n-Ride. And of course, Mayor Taveras will be riding to the event  announce  this years Ciclovia events.
A full  Bike to Work Day 2013 Flyer is available to download.
Below is the text of the press release:
Mayor Taveras to Participate in City Celebration of Bike to Work Day
Mayor Taveras will join with the Rhode Island Bicycle Coalition and residents across the city who will participate in Bike to Work Day next Friday, May 17 in the City of Providence.
Mayor Taveras and bicycling advocates from his staff will depart from the Mayor's home at 7:30 am and bike to a community celebration and press event that will be held at 8:15 am at Burnside Park.
Bike to Work Day, celebrated during National Bike Month, encourages residents to bike to work or try bicycling for fun, fitness and transportation.
At the press event, Mayor Taveras will announce the dates and locations for the 2013 Providence Cyclovias.
The Rhode Island Bicycle Coalition's community celebration will feature:
·         A commuter breakfast and coffee service courtesy of New Harvest Coffee Roasters and Whole Foods Market
·         Demonstrations
·         Bike repairs
·         Raffle
Local sponsors include: City of Providence's Healthy Communities Office; R.I. Bicycle Coalition; the Bicycle and Pedestrian Advisory Commission; Dash Bicycle Shop; East Coast Greenway Alliance; Greater Kennedy Plaza; Whole Foods; New Harvest Coffee Roasters; Legend Bicycle; Zipcar; RIPTA; and more.
WHEN:                                 Friday, May 17, 2013
·         7:30 am: Mayor Taveras departs from his home
·         8:15 am: Celebration and press event
WHERE:               Burnside Park at Kennedy Plaza