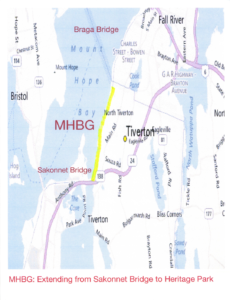 By Harton Smith, Administrator for Bike Tiverton
Wouldn't it be nice if you could bike from Providence to Newport, Tiverton, Fall River, and even Cape Cod along a network of interconnected, safe, and protected bike pathways?
Formed in March 2017, Bike Tiverton is an advocacy group dedicated to promoting safe, accessible, and enjoyable bicycling for all. We support adoption of more active modes of transportation to help create greener, healthier, safer communities. Essential to achieving that goal is the fostering of enhanced bike and pedestrian infrastructure, including improvement of existing roadways for greater bicycle safety and development of dedicated off-road pathways for both recreational and commuter pedestrians and cyclists, with the larger goal of achieving a healthier and more prosperous community with amenities that can benefit all residents.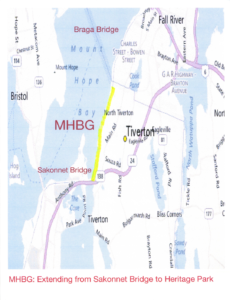 Currently, our primary objective is to promote development of the Mount Hope Bay Greenway (MHBG), a proposed 6-mile bicycle/pedestrian trail to be constructed along the Eastern shore of Mount Hope Bay following the route of an unused railway line extending from the Sakonnet River Bridge in Tiverton to Heritage Park in Fall River, providing spectacular views of Mt. Hope Bay in the foreground with the Mt. Hope Bridge in the background.
To date, our efforts have been directed toward securing State approval of and funding for the 2.5-mile Tiverton portion of the pathway. We have completed an application to the 2018-2027 State Transportation Improvement Program (STIP) and the MHBG project has been included in their draft proposal among a list of 14 bicycle projects that have been earmarked but not yet funded. Inclusion in the STIP is a necessary, but not a sufficient condition for funding. Final determination about funding is contingent upon the recommendations of the Rhode Island Bicycle Master Plan, due to be completed by the Summer or Fall of this year.
We have been coordinating with Alfred Lima, former Fall River City planner and landscape architect, who has been working diligently with other local bicycle advocates to develop the 3.5-mile Fall River section of the MHBG. The Fall River Community Preservation Committee has committed funding for a planning and engineering study for their segment of the trail with the planning process commencing this year.
The Fall River portion of the MHBG would be a rail-with-trail design, while the Tiverton portion would be either a rail-trail conversion or a rail-with-trail pathway. Once completed, the MHBG would intersect northerly with The Providence to Provincetown Bikeway, envisioned to be a continuous succession of off-road and on-road bike paths and bike lanes that would connect Providence, RI to Provincetown, MA, incorporating the East Bay Bike path in Rhode Island as well as the proposed South Coast Bikeway (a multi-use trail that would link Fall River's Quequechan River/South Watuppa Rail Trail to the proposed Acushnet River Riverwalk in New Bedford) and Cape Cod bike paths in Massachusetts. In Somerset, MA, an offshoot of the bikeway would connect with the proposed Taunton River Trail, running from Mount Hope Bay up the Taunton River to Brockton. At the southern terminus of the MHBG, in Tiverton, the pathway would connect with the bicycle/pedestrian corridor included along the Sakonnet River Bridge, thus providing a link to existing and proposed bicycle pathways on Aquidneck Island.
If all links were completed, a cyclist leaving Newport could conceivably ride all the way to Providence or Cape Cod along designated on- and off-road pathways encompassing a variety of terrain and magnificent vistas. The Tiverton portion of the MHBG provides a vital link to the creation of a fantastic network of trails throughout Rhode Island and Southern Massachusetts, an invaluable asset to the region, solidifying it as a prized destination for bicycle tourism, reinvigorating the local economy and promoting health, fitness, and increased community pride.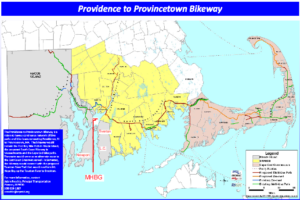 Interested in learning more, including how you can help? Join the Bike Tiverton Community on Facebook.