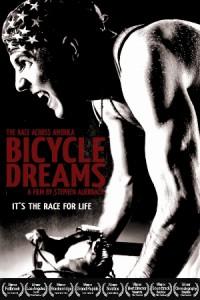 Thanks to the generosity of the producers of the film, the Rhode Island Bicycle Coalition is hosting a screening of the movie Bicycle Dreams. The showing will be Thursday Feb. 2, 2012, 6:30PM at the Cable Car Cinema.
Bicycle Dreams documents the extreme hardship endured by teams of cyclists competing in the annual non-stop Race Across America bicycle race.
To purchase advance tickets, order online (make sure you select the Providence showing).
The Cable Car Cinema & Café is located at 204 South Main St. in Providence.
From the press release:
Bicycle Dreams, the award-winning feature-length documentary about the Race Across America(RAAM), will premiere in Providence at the Cable Car Cinema & Cafe on Thursday, February 2 at 6:30 p.m. as part of the film's ongoing nationwide winter tour. The screening is presented as a benefit for the Rhode Island Bicycle Coalition.

The film, which has won numerous awards at film festivals all over the world, "is an up-close look at what RAAM riders go through," says Stephen Auerbach, the director and producer of Bicycle Dreams. "They deal with searing desert heat, agonizing mountain climbs, and endless stretches of open road. And they do it all while battling extreme exhaustion and sleep deprivation. It's a great subject for a film."
You can read the full Press Release.