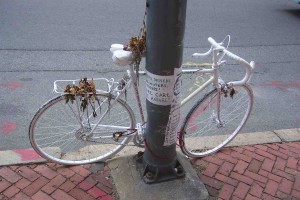 On the tail of Wednesday's Ride of Silence dedicated to cyclist who have been killed, we are sorry to report multiple news sources (boston.com, Projo) are reporting the death of a North Providence High School cyclist:
NORTH PROVIDENCE, R.I. (AP) – A North Providence High School student riding his bicycle died after he was struck by a car late Wednesday night.

School principal Joseph Goho announced the death of ninth-grader Justin Santiago over the public address system on Thursday morning. Santiago was 16.

Capt. Daniel Cennamo said the crash took place around 11:10 p.m. He said a car traveling on Waterman Avenue collided with a cyclist at the intersection with Woodcliff Avenue. He said the cyclist was pronounced dead at Rhode Island Hospital but did not release the person's name.

Cennamo said local police and the Rhode Island State Police are investigating.
Details are still forthcoming, but we will post updates of any further information as it becomes available.