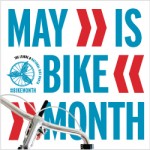 May is traditionally a very busy month for bicycle events to celebrate National Bike Month.   While it looks overwhelming, come out to one event, or many others, or create your own and share it with us!
In addition to all of the events listed below, bike shops and other organizations are hosting rides and workshops throughout the month, stop in and ask what else is going on!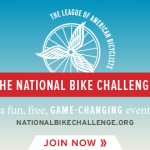 National Bike Challenge kicks off on May 1st for its 3rd year.  The challenge runs through the end of September.  Earn points by recording your bike rides and get entered to win prizes as you earn more points and help us to prove that bicycling is a part of Rhode Island life.  Join team RIBIKE, or form your own teams and challenge your friends to ride more.
RIBIKE Speaker Series @ AS220  – May 7, 14, 28 6pm
Join us for an informative series of talks about bicycle touring, Post-Car family adventures, and livable streets city design principles on Wednesday nights in May.  No charge to attend.  More info at Facebook.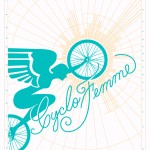 International CycloFemme – May 11 9am
CycloFemme is a socially-driven grass-roots celebration of women on bikes with 214 rides registered in 41 states and 19 countries. Join Bike Newport, RI, SpokesWomen Cycling and Women Bike RI for a gorgeous Ocean Drive ride and picnic in Newport on May 11th!   Event page is on Facebook for more details.
Bike To Work Week

– May 12 to May 16
RIBIKE monthly meeting – May 12, 6pm
Our monthly meeting to discuss event planning, strategy about ongoing projects and updates on improvements to bicycle riding conditions around the state.
Bike NewportCommunity Meeting – May 13, 8am
Bike to the Legislature – Bike Week, Date TBD
Bike to the Rhode Island legislature to meet your legislators and meet for photo opportunities.
Bike to Work Day – Providence and Newport – May 16 various times
The annual event  supporting those new to bike commuting to the work for the camaraderie of other bike commuters, enjoy some recharge with coffee and breakfast, find out about other riding opportunities around the area.

BikeFest RI – May 17, 10 to 4
A celebration of all things bicycle for Rhode Island.  BMX tricks demonstrations, live music, food trucks, helmet fittings, climbing wall and just about every bicycle related organization or business in the state well be on hand to share information and show off how great it is to bicycle in Rhode Island.
Providence Bike and Pedestrian Commission Meeting – May 21, 4:30pm
The BPAC meets on the 3rd Wednesday of each month to discuss city specific projects, advise the city departments and Mayor's office on issues affecting the city's bicycle and pedestrian functionality.
International Ride of Silence – May 21, 6:45pm
The Ride of Silence is a silent, low speed, short ride to remember those who have been injured or killed while using their bicycles and serves to raise awareness of bicycle users vulnerability.  The ride will  be hosted at Brown University.