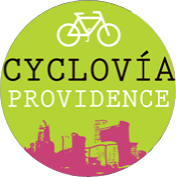 Volunteers are needed for the Sunday July 28th Cyclovia being held on Valley Street between san Souci Drive and Atwells Avenue.  Volunteers will be responsible for monitoring side streets and ensuring that drivers do not take their vehicles onto the closed roadway.  Shifts are 2 hours each, from 11 to 1 and 1 to 3PM with water and lunch provided.
To Volunteer as a street monitor or to volunteer at the RIBIKE table where we'll be hosting bike decoration craft projects and helmet fitting, please send an email to moritz@ribike.org.   Please state your preferred shift.
Cyclovia Returns to Providence this summer for 3 dates over the course of the summer.  Sunday, Jul8 28, Valley Street between San Souci Drive and Atwells Ave. closes to vehicular traffic with the street opened to people to use as a temporary bike park.  Several organizations will have with activities for the family.
Cyclovia is a car-free event that opens Providence streets to people so that they can walk, skate, run, bicycle, exercise and socialize. The events are free, open to the public and fun for people of all ages.

The events feature farmers markets, Zumba, yoga, bicycle workshops, street vendors and more.
Dates for other the rest of the series:
Sunday, July 28:
Valley St. in Olneyville (between San Souci Dr. and Amherst St. and including Donigian Park)
Sunday, September 15:
Hope St. in the East Side (between Lippitt Park and Rochambeau Ave.
View the full Cyclovia Flyer.