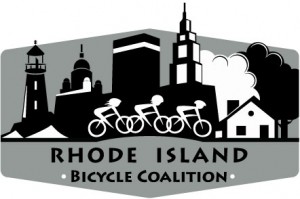 Although this report was a bit delayed, we had a pretty good 2012, and are on track to continue on an even footing into 2013.  We've seen many changes for bicycle users around Rhode Island in some communities, hopefully for the good.  We also with sadness had to say goodbye to one of the most renowned champions of the state bike path system in George Redman.
As you consider continued membership, or renewing, it's important to let you know what we've accomplished, how we've spent out time, and our financial situation.  Thanks to our donors, partners, members, and of course the volunteers without whom nothing would get done.
In 2012, we expanded the Providence Bike To Work Day  event, with live television coverage on The Rhode Show, and participating dignitaries Mayor Angel Taveras and Representative Art Handy.  We added an expo area with several local bike shops and manufacturers offering demo rides of bicycles,  wet weather gear.  For other events, we had our first ever Midwinter movie night with 2 sold out showings of Bicycle Dreams.  We once again partnered with Legend Bicycle to offer a Light Up The Night event in the fall, distributing over 80 free sets of lights to unlit night riders.
Legislatively, Vice President and Legislative Committee Chair Barry Schiller worked with sponsors to have Vulnerable Roadway User legislation introduced in both the house and senate, and organized RIBIKE members and related, interested groups to attend Senate and House hearings in support of the legislation.  While the legislation did not make it out of committee, with the number of other organizations and representatives sponsoring and supporting other bills, we believe that opportunity for building a broader coalition for a roadway safety package is possible.
So far in 2013, we've already been working to build a coalition to get Vulnerable Roadway User legislation enacted, which would serve to toughen fines for injuring anyone not in a vehicle above the current level.  We hosted a second annual mid-winter bicycle movie night, again selling out and we've secured funding to expand Light Up the Night to try to reach late night workers commuting by bicycle.  We of course will continue to work on our traditional events for May  and November, and be adding new bicycle education opportunities and events to our calendar.
Also of significance in July, all the elected board officers terms will expire.   An annual meeting of members will be held to elect a new executive board as well as determine committee chairs and board memberships.
Now is the time to get involved and make this a state where getting on a bicycle is normal and unremarkable.
Matt Moritz
President of the Board